'Big Brother' 2014 Episode 5 Recap: The 17th Houseguest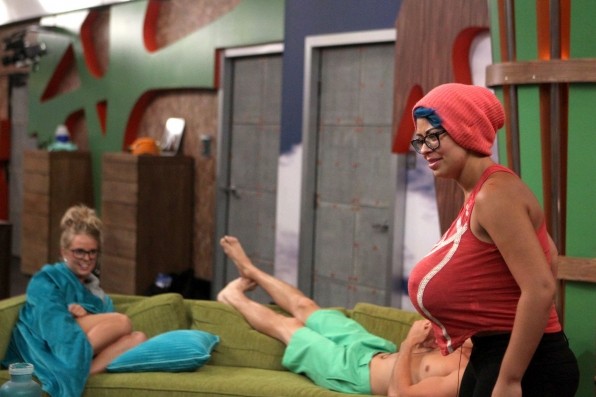 Big Brother 2014 claimed its first victim last night. This person made a lot of critical game mistakes. So we can't decide which one was their biggest one. As this player left, two other houseguests took the power tonight. We also have a new alliance member in Team America.
The 17th Houseguest: Alex
Joey starts campaigning to stay in the house. Most of her tactics involve straightforward asking people to keep her in the Big Brother 16 game. Some of them were a bit out there, like the introduction of Alex. Joey decides to embody a new alter ego called Alex, a really aggressive macho man with a plan to show the houseguests that the men shouldn't hold all the power. Her plan may convince some people to keep her in Big Brother 2014. It convinces more houseguests that she is insane.
Eviction Votes
Devin Shepherd votes to evict Joey
Derrick Levasseur votes to evict Joey
Frankie Grande votes to evict Joey
Cody Calafiore votes to evict Joey
Zach Rance votes to evict Joey
Brittany Martinez votes to evict Joey
Nicole Franzel votes to evict Joey
Christine Brecht votes to evict Joey
Victoria Rafaeli votes to evict Joey
Jocasta Odom votes to evict Joey
Hayden Voss votes to evict Joey
Amber Borzotra votes to evict Joey
Donny Thompson votes to evict Joey
Joey becomes the first Big Brother 2014 evictee with a 13-0 vote.
Head of Household Competition: Greek Love
BB Rager: Houseguests must travel on a balancing beam carrying kegs from one side to the other. The first female and male player to transfer all six of their kegs, and ring the bell, wins the head of household competitions. A player is eliminated if they fall off the beam or drop their keg.
Amber basically dominates the female round of the competition. Then she becomes the first female head of household of the season.
For the male competition, it's a close race between several male houseguests. However, Hayden almost wins until he falls off his beam. Then Cody hits his buzzer. It seems like he is the new male head of household, but after the tapes are reviewed, Devin becomes the new HoH.
Team America
Donny becomes the newest member of Team America. The other two members will be announced on Wednesdays episode of the show. 
Showmance, Party of One
One of Caleb Reynolds' most memorable moments of the Big Brother 16 pre-show interviews is when he talked about his love for love. He even claimed The Notebook mimics his first true love story. So a shomance seemed in his future. Caleb finds himself really attracted to Amber. One day, he confessed his feelings to her. He hoped she would share them, but she doesn't. However, Caleb refuses to give up. Hopefully this doesn't lead to a Nick Uhas' hat and GinaMarie Zimmerman situation.