'Big Brother' 2014 Episode 28 Recap: Folding Under the Pressure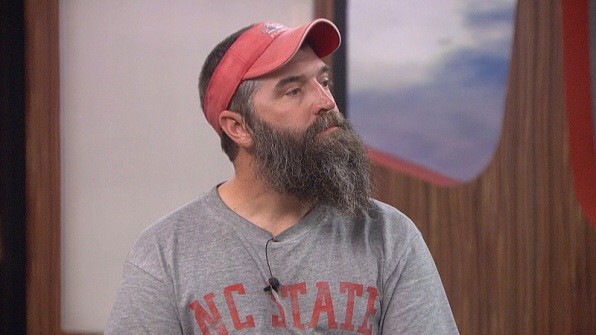 Many Big Brother 2014 fans have been unhappy with the favorable ways CBS has edited Youtube Star Frankie Grande. On last night's episode, he was edited in villainous way. One of America's favorite players, Groundskeep Donny Thompson, suggested that Team America's mission for the week be to save him. The third member of Team America, Derrick Levasseur, was on the fence about the idea, but Frankie was completely against it. This could be setting him up to become the new antagonist of Big Brother 16.
Mission Save Donny?
Donny enters into the Diary Room and gets the newest mission for Team America. They need to develop and complete their own mission, and then viewers must vote it as a pass or a fail. They must complete their mission before the Veto ceremony.
As the main target for this week, Donny suggests that they make their mission about saving him from eviction. Derrick ponders his request, but Frankie thinks they need to do something more fun. He says they should put on a Big Brother play. Throughout the day, Donny continues to fight to get his idea heard. In the end, the guys decide to go with the play to please Frankie.
House Swap: The remaining eight Big Brother 16 houseguests decide to dress like the first eight evictees for their play. This makes the play a mock the evicted houseguest fest. Their imitations bare very little resemblance to the actual personalities of the evicted players.
Victoria's Widom Teeth Scare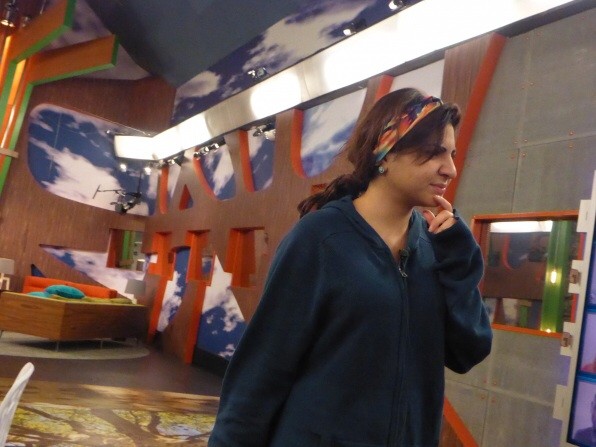 Victoria Rafaeli's Wisdom Teeth have caused her face to swell. One day the pain becomes unbearable and she passes out. A paramedic arrives through the Diary Room to help her and Victoria is taken away. Later she returns better, but still not completely healed. Her Big Brother 2014 family completely shows sympathy and support through her recovery.
Stay and Fold
Christine Brecht, Derrick, and Frankie are chosen to play in this week's Power of Veto competition, along with Head of Household Cody Calafiore, and nominees Nicole Franzel and Donny.
Before this week's competition, Derrick and Cody discuss who to nominate if Donny wins the Veto. They consider evicting Frankie or Christine, because they know that one of them might try to take out a member of the Hitmen alliance.
Christine tries to ensure that Donny loses the PoV competition by telling the Detonators that one of them needs to agree to stay every round, while all the others fold. They elect Frankie to stay each round because he's good with numbers.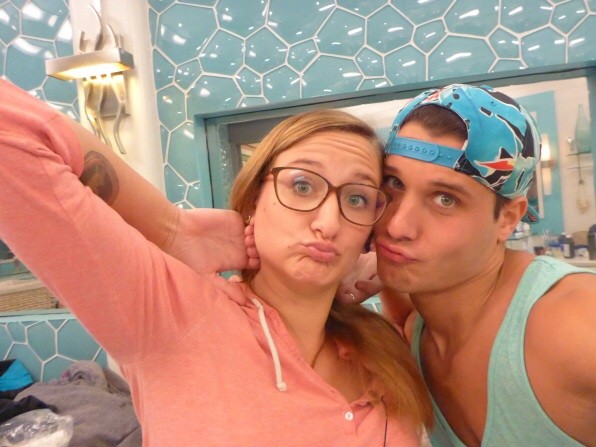 Sting Operation: Big Brother used this competition to cross promote their new show Scorpion. For the competition, players were asked about how many of specific items do they believe are in one of the given rooms designed for the competition. Then each player guesses an amount. If they think their guess is close to the real answer, they can either stay or fold. If only one player chooses to stay, while everyone else folds, they receive a badge. If more than one player decides to stay, the player closes to the actual answer wins a badge, and the player furthest to it is eliminated. The first player to receive three badges wins.
The Detonators plan quickly fails as Frankie is eliminated in the first round. Cody decides to stick it out and be the person to stay every round. Fortuntely for him, this works in his favor. He easily wins the competition and the PoV.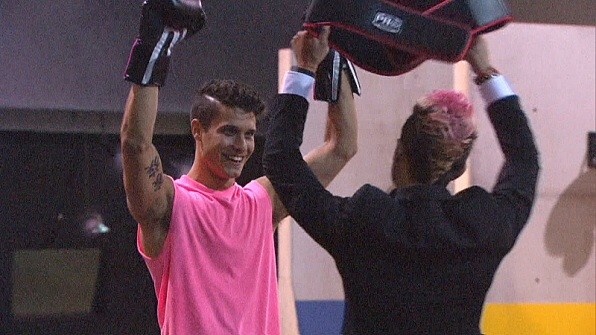 Cody also wins an early advance screening of Scorpion, and can take two guests with him. He decides to take Donny and Nicole along because they've been Have-Nots for the week and this screening allows them to eat some snack food.
Derrick and Cody once again discuss whether to use the Veto and go after a big player, like Frankie or Christine, or not. Eventually, Cody decides to play it safe and keep the nominations the same.