'Big Brother' 2014 Episode 21 Recap: Nicole Blows Up Frankie's Game
One of the most dramatic episodes of Big Brother 2014 happened last night. After the plan to evict Zach Rance failed, the house turned on Nicole Franzel and Hayden Voss. Hayden left the house, but he threw Frankie Grande and Christine Brecht under the bus. This turned the entire Big Brother 16 house against the duo. At the end of the day, one of them became Head of Household, while the other fought in one of the most dramatic Battles of the Block ever.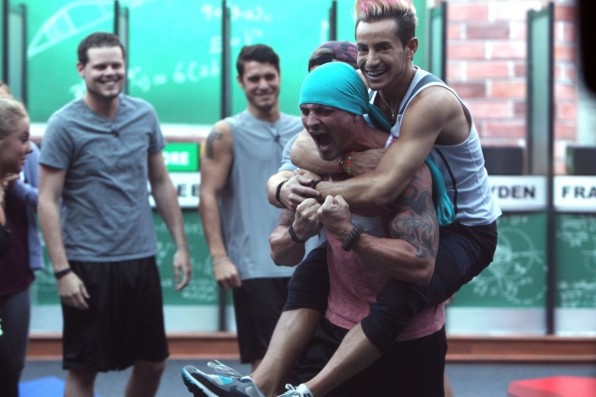 Life Under-the-Bus
Nicole continues to tell the Big Brother 16 houseguests that Frank and Christine orchestrated the plan to evict Zach. This plants the seed in people's head that Frankie isn't trustworthy.
Then the Head of Household competition begins.
BB Tourn-Eye-Ment: Contestants must look at eye charts. Once they understand the question, they must answer if the answer is one or two. By drawing names from a hat, Caleb Reynolds determines the first round of pairs.
1st Head-to-Head: Cody Calafiore and Nicole (Winner)
2nd Head-to-Head: Victoria Rafaeli (Winner) and Derrick Levasseur
3rd Head-to-Head: Donny Thompson and Christine (Winner)
4th Head-to-Head: Zach(Winner) and Frankie
5th Head-to Head: Victoria and Nicole (New Head of Household)
6th Head-to-Head: Christine (New Head of Household) and Zach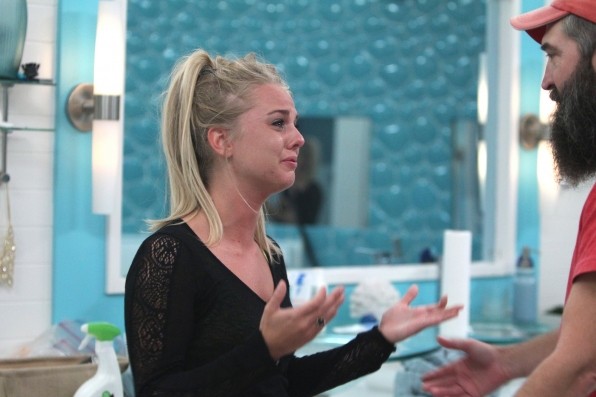 Christine and Nicole become the new Heads of Household. While alone, they start to discuss nominations. Then Frankie disrupts their conversation to suggest they put up Caleb, Derrick, Zach, and Cody. He claims that from now on he wants to work with them.
Zach and Nicole try to rebuild their friendship by discussing the game. Nicole reveals to Zach that Frankie suggested she nominate him and the other guys. Later Zach tells Caleb, Cody, and Derrick. They talk about getting Frankie out by having Zach nominated against him, and him throwing the Battle of the Block. Derrick then tells their plan to Nicole.
She likes the plan but doesn't trust Zach to really do it. Then Nicole reveals to Caleb that Frankie made her lie to him about Amber Borzotra. This angers Caleb and he volunteers to go on the block to throw the competition.