'Big Brother' 2014 Episode 19 Recap: Holding Out for a Hero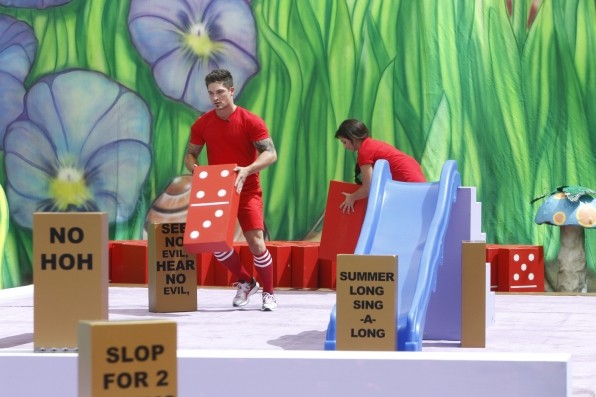 Last week on Big Brother 2014, Head of Household Nicole Franzel nominated Zach Rance to get a little revenge for him nominating Christine Brecht and her for eviction. Her revenge got even sweeter when Donny Thompson's nominees Victoria Rafaeli and Caleb Reynolds won the Battle of the Block, which left her as the only HoH. Fortunately for Zach he wasn't her target. His bromance partner Frankie Grande is...but only if the Veto is used to save Zach or fellow nominee Jocasta Odom. What could possibly go wrong for Nicole's plan on Big Brother 16?
Not-So Eden
Despite winning this week's Battle of the Block, Caleb acts really annoyed about his punishments. His punishments include being tied to Victoria for 48 hours (dressed as Adam and Eve), eating slop for two weeks, and shaving his head. Zach starts to get annoyed by Caleb's annoyance, because he rather take those penalties than leave the Big Brother 16 game. Caleb and Victoria's bickering while chained together is a main portion of this episode of Big Brother 2014.
The Ir-Rationales
Hayden Voss, Nicole, Cody Calafiore, and Derrick Levasseur join together to form a new alliance call the Rationale. Derrick plans to support Hayden and Nicole on whatever their decision is for this week, even if it means getting out a Detonator.
Christine remains bitter about Zach nominating her as a pawn last week. Therefore, she wants him out. She tries to seal his fate but placing doubt in Nicole's head about him, and winning back her trust. Christine lies to Nicole and claims that the guys won't vote out Zach. In the same conversation, she tries to plant doubt in Nicole's head about her showmance with Hayden. She tells Nicole that Zach told her that Victoria and Hayden made out.
Nicole then asks Hayden about it. They both realize Christine can't be trusted, and consider backdooring her over Frankie.