'Big Brother' 2014 Episode 14 Recap:Tragedy Hits the House
This week, the Big Brother 2014 house's main target was Brittany Martinez. However, until voting ended, no one was completely safe. Many of the Big Brother 16 players love Donny Thompson, but love rarely leads to a half-million dollars. Therefore, the smartest move for the Big Brother 2014 players would have been to evict him, because his popularity makes him a hard player to beat.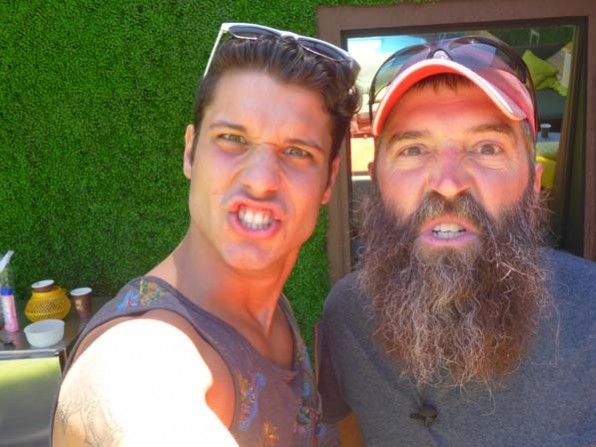 Emotions Overload
Cody Calafiore starts to feel the weight of his decision to nominate Donny as a replacement nominee instead of Caleb Reynolds. Everyone reassures Cody that he made the best decision, and that Donny is safe. Derrick Levasseur is one of the players trying to convince Donny he's safe. In his Diary Room sessions, Donny admits that he thinks Derrick might be the ring-leader of the house.
Later Brittany begins talking to Caleb because she believes he has enough control in the game to sway the Big Brother 16 house in her favor. Because Caleb likes Brittany, he begins working to change some people's votes.
Much later, Frankie Grande gets a letter from home. They inform him that his grandpa has passed away. The Big Brother 2014 house unites to comfort him.
To Have and Have-Not
Host Julie Chen lets the players know that the Have-Nots for this week will be the players who have been the laziest according to the Big Brother activity tracker. Those four players are Nicole Franzel, Christine Brecht, Derrick, and Caleb.
At the end of the episode, Julie informs America that the newest Team America mission involves them trying to get two houseguests to argue during the nominations ceremony or veto one.
This seems like another task that involves Big Brother 16 wildcard player Zach Rance.
Bye, Brittany
Jocasta Odom votes to evict Brittany
Nicole votes to evict Brittany
Hayden Voss votes to evict Brittany
Amber Borzotra votes to evict Brittany
Derrick votes to evict Brittany
Caleb votes to evict Brittany
Christine votes to evict Brittany
Victoria Rafaeli votes to evict Brittany
Zach votes to evict Brittany
Frankie votes to evict Brittany
Brittany is evicted by a 10-0 vote.
During her exit interview, she talks about who controls the house, her 2,400 goals, and gets a surprise visit by her three children.
Farewell #BBBrittany! U may not have won #BB16 but I have a feeling the best prizes were waiting 4 u out of the house pic.twitter.com/gz7ZtOdIXm

— Julie Chen (@JulieChen) July 25, 2014
Sweating to the Oldies
Country Hits: For the head of household competition, players must face-off until only two players remain. They must listen to country songs describing either a Power of Veto competition, a Battle of the Block one, or a Head of Household contest. The first player to buzz in with the correct answer wins that round, and then must select two players to face-off. If a player buzzes and answers incorrectly, they are eliminated.
First Round: Hayden vs. Christine-Christine wins
2nd Round: Donny vs. Jocasta-Donny wins
3rd Round: Frankie vs. Caleb-Frankie wins
4th Round: Amber vs. Victoria-Amber wins
5th Round: Donny vs. Derrick-Derrick wins
6th Round: Zach vs. Nicole-Zach wins
7th Round: Amber vs. Christine-Christine wins
8th Round: Frankie vs. Derrick-Derrick lets Frankie win this round to see his grandpa-
9th Round: Zach vs. Christine-Zach wins
Zach and Frankie become the newest heads of household