'Big Brother' 2014 Episode 13 Recap: Beauty and the Beast Mode Cowboy
Usually romance and Big Brother results in players making bad game decisions. Caleb Reynolds has made a lot of bad game decisions in the Big Brother 2014 house to impress his crush Amber Borzotra. These decisions have quickly turned his alliance against him, including current head of household Cody Calafiore. Cody and Amber have a close friendship, which makes Caleb jealous. So these Big Brother 16 male players have developed a rivalry over it.  Despite their alliance, one of the men will have to strike first. This week could be the best time for Cody to try to take out Caleb before he aims toward him.
Jealous Guy
When Caleb sees Amber and Cody sort of flirting, he once again lets his jealousy control his game. He then starts venting his frustration about Amber not appreciating the game sacrifices he made for her. Eviction nominee Brittany Martinez is one of the players Caleb tells about the Amber situation. While talking, Caleb tells her how he rather her stay in the Big Brother 2014 house than other eviction nominee Victoria Rafaeli. Brittany takes this as a sign that they could work together in the future.
A Swift Kick to the...
During the power of veto competition, Cody picks Zach Rance, and Victoria Rafaeli picks Nicole Franzel's names out of the veto bag.  Brittany lucks out and gets house guests choice and chooses Caleb. This immediately sets off an alarm in Cody's head that two might be working together.
BBCup: In the veto competition, players must use a kicking device to try to hit goals. The player who hits the lowest number after each round is eliminated. Then the eliminated player must pick a trophy. The trophies contain prizes and penalties. The eliminated player can think choose to trade their prize with another player, or they can keep their original prize.
Cody gets sixth place and immediately wins the power of veto.
Brittany gets fifth place and gets a "Penalty Kick" prize. This means that every time a penalty whistle blows, she must pull this shoe device that kicks her in the butt. She would have to do this ten times, every time the whistle goes off for the next 24-hours. Brittany trades this prize for the veto.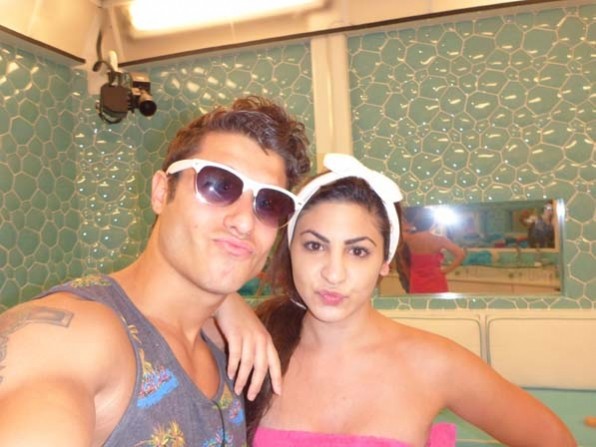 Zach gets fourth and a trip to Germany. He keeps his prize.
Nicole gets third prize, which is a prize called "Goal Orientated." She must kick 2,400 goals in the next twenty-four hours, or she can't play in the next power of veto competition. Nicole trades the prize with Brittany.
It comes down to Victoria and Caleb. Victoria slips up and Caleb wins. Victoria opens her prize; it's $5,000. She trades it with Nicole for the veto. Caleb opens his prize, which is a Germitard. He trades it with Nicole for the $5,000.
So Victoria wins the power of veto, which means she'll take herself off the block.
Dumb-Dumb
Caleb's "alliance" members quickly get upset about his decision. Cody starts to consider putting him up as the replacement nominee. Later Zach, Donny Thompson, and Hayden Voss are talking, and Donny tries to convince them that Caleb needs to get out the house. Zach really likes his idea and takes it back to his alliance. They shut it down pretty quickly.
Much later, Donny and Cody start talking game. Donny gets Cody to think about how his family would react to his decision to not put up Caleb as a replacement nominee. This connects with Cody and he changes his mind about putting up Donny as a pawn. He then tells Frankie, Hayden, and Nicole his decision. Frankie wants to do damage control by getting Derrick Levasseur to talk Cody out of his change of heart.
This works because Cody sticks with the original plan and puts up Donny alongside Brittany for eviction.