'Big Brother' 15 Finale: Finally Putting Us Out of Our Misery
The winner was revealed. By a vote of 7-2, Andy won. GM immediately ran into Nick's arms. No surprise there.
Then came time for the most exciting reveal: America's Favorite. The top three vote getters were Elissa, Judd, and Howard. Elissa won! I loved the quick pan to Andy's mortified face.
It was a disappointing finale for a disappointing season. Here's hoping for a better season in the future.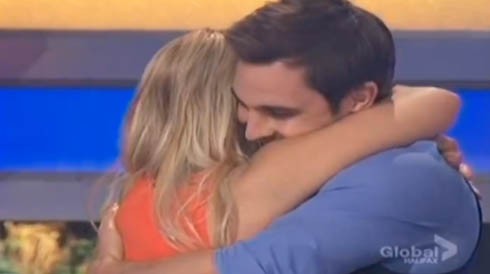 Other Musings:
GM swallows glitter in the HOH comp which is basically something they worry about with kindergarteners.
It's the last episode and Andy has made his ten billionth corny, badly acted diary room comment. Congrats Andy!
Andy: "I do my job because I love it." Says the man who was fired.
Spencer performs pitifully in both final competitions. Hardly surprising since this is how he played the entire season.
Andy to GM: "If the jury is bitter they'll definitely go for you over me."
Helen was practically humping Helen. She was blushing. For sure in love.
McCrae couldn't bother to dress up for the jury segment.
Amanda's final HOH jury question was campy and annoying. Shocking.
Elissa's answer was so cute. Aaryn's behavior shocked her the most because everything about her is cute accept her personality.
Judd's answer shocked me because he hated Helen most of the summer, but his answer said he wanted to work with her the most.
Spencer thinks Andy was loyal to Gina Marie the whole game. Uh, what?
"The pawn always goes" hasn't been true for like ten seasons.
Helen couldn't help but continue to cheer, this time for Spencer as he joined the jury.
It was not a coincidence that Elissa asked Andy a question, since Andy has spent the last three weeks saying that if she asked him a question he'd tell her to shut up. Of course he just kissed her ass instead. Classic Andy.
GM mentioned Nick twice in her jury questions.
Andy called himself a coward in the one lucid moment he ever had in the game.
GM's catchphrase: "I'm Gina Marie." She said it twice in her speech. She also misspoke a few times, sucked up, and—I think—even offered a bribe.
Before a commercial GM yelled, "HI NICK!" and "NICHOLAS!!!!!!!!!!!"
Shocking votes: Judd voted for GM, Elissa for Andy