Big Boi's "Vicious Lies and Dangerous Rumors" Review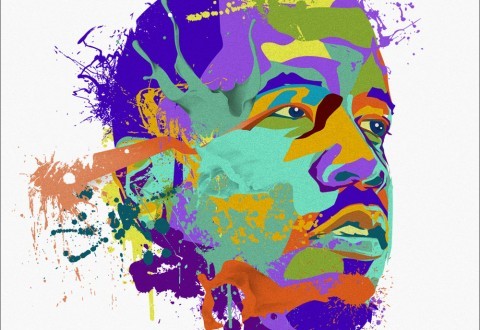 Antwan Andre Patton (also known as Big Boi) is one of the long standing heavy weights in the hip hop scene. Whereas his former Outkast partner Andre 3000 seems to have entered a self created exit from the scene, Patton continues to innovate and push boundaries. This album could have just been a carbon copy of his last record, Sir Lucious Left Foot and if it had, it probably would have pleased fans and been hailed as masterful. Instead, Patton chose to take the riskiest route possible on this album, and in the end has created an album that is both a masterpiece and a mess at the same time. 
The album begins with "The Thickets" which features frequent collaborator Sleepy Brown, and sounds like it would have fit perfectly on his last release. The album then launches into "Apple of My Eye" which features a sing along style chorus, a funky beat, and some great lines from Patton. The album gets off to a rather normal start, and these two songs sound like an attempt to appeal to his core fans, trying to draw them in right before things get weird. 
When things get weird, however, they get really weird. "Objectum Sexuality" sounds like southern funk that's been chewed and spit out by a dying hard drive, and features one of the most bizarre violin solos ever put into a song. "C.P.U." is driven by dark synths, and features lyrics about internet pornography. "Thom Pettie" features one of the most memorable choruses in years, and it sounds like Patton giving a master class on how to rap over a trap beat only to step aside for sixteen amazing bars from Killer Mike. No matter how weird and strange things get, Patton holds the whole thing together, and always manages to sound both confident and collected. He's been rapping for twenty years now, and is eager to show off his skills. 
"Mama Told Me" is the album's catchiest song, and sounds as like the soundtrack from "Purple Rain" fused with a current club track. It is reminiscent of "Be Still" from his previous album in that Patton allows the female singer, in this case Kelly Rowland, to steal the show. He has no problem throwing down his verses and then letting her sing out the song, and he does this frequently on other songs on the album as well. Patton isn't afraid to only be part of his own songs, and this is both interesting and frustrating, because there are certainly moments where it sounds like he should be more involved. "C.P.U." seems to drag on forever once Patton leaves the track, and "She Hates Me" is let down completely by Kid Cudi's auto tuned vocals. "She Hates Me" is especially frustrating because it becomes apparent later in the album that Patton is capable of singing, and his voice would have probably sounded much better on this track. 
There is only one song on the album that is truly terrible, and that's "Shoes For Running" which features both punk rock brat Nathan Williams and generic rapper B.O.B. It sounds like it should be on a shoe commercial, and it also seems to never end even though it's slightly less than four minutes long. Some of the other tracks might be alienating, but this one is just truly terrible, and should have probably been cut from the album. 
The album is played out by two of the most emotionally intense songs Patton has ever recorded, "Tremendous Damage" and "Descending" and shows a side of him that hasn't really been seen before. "Damage" is the lesser of the two, which sounds like Patton is trying to express himself in the context of current popular music. Luckily, "Descending" follows it up and is probably the best track on the album. Patton never raps on the track, but rather sings under a beautiful nylon string guitar line. It sounds like a personal form of grieving, and is something that is so staggeringly different from anything else in his catalog that it's likely to be both loved and loathed. 
On the track "In the A," Patton samples his own line from a previous track that states "I keep it player while some choose to play it safe." These lyrics are the perfect summary of the album. There's a sense of risk here that is unprecedented in releases like this, and it shows that Patton has no intention to just grow old and fade away; he wants to continue to push hip hop forward and be it's greatest innovator. This album might not please everybody, but it will certainly remain influential for years to come. 
Vicious Lies and Dangerous Rumors
Rating: 7.9 / 10 
Verdict: Frustrating and masterful.