BFTV's 12 Best TV Drama Series Ever
24
When 24 hit the airwaves, it really did change the way audiences looked at television - not just because of its "events occur in real time" concept, but also because of its sharp and unpredictable scripts. From the very first episode, the FOX drama showed audiences that it was unafraid to break the conventions of normal TV. Things didn't get neatly wrapped up within each episode. Main characters were constantly at legitimate risk. Heroes became villains and villains became heroes. It was a series that actually deserved to be called "edge of your seat." Add one career-redefining performance by Kiefer Sutherland as super-agent Jack Bauer, plus a whole host of wonderful supporting players and guest actors - including Dennis Haysbert, Penny Johnson Jerald (Castle), Gina Torres (Suits), Reiko Aylesworth (Hawaii Five-O) and Xander Berkeley (Nikita) - and it was almost always can't-miss television. Now will we ever see that long-rumored movie version?
Brotherhood
Just before Showtime scored big with Dexter, there was Brotherhood. One of the premium net's first original series, it gave us two phenomenal actors named Jason - Isaacs (Awake) and Clarke (Zero Dark Thirty) - playing brothers from the same Rhode Island family on two distinctly different paths. Michael Caffee was a mobster and his brother Tommy a politician, but both had their sins and their axes to grind. It's hard enough to find one great lead actor for a show, but this one had two who were always on the top of their game. Series creator Blake Masters and his staff made sure that the cast - which also included Annabeth Gish (The X-Files), Fionnula Flanagan, Kevin Chapman (Person of Interest) and an underappreciated Ethan Embry - had material that they could really sink their teeth into. Brotherhood was the complex, sometimes dark, sometimes bloody story of a family and a neighborhood, and it's a shame that it never got more attention, because it was just as good if not better as some of the shows that followed it.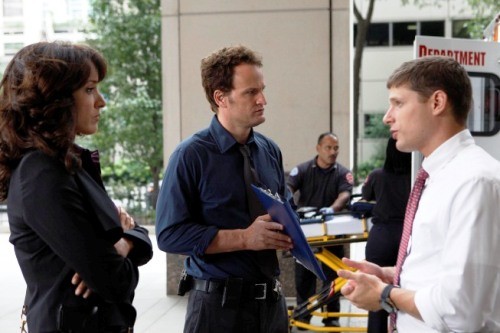 The Chicago Code
After Brotherhood, audiences got another chance to see Jason Clarke when he nabbed the starring role in Shawn Ryan's FOX drama The Chicago Code. Ryan is one of the best showrunners working in TV today if not ever, and no offense intended to fans of his other great shows, but Chicago Code was something special. It boasted another magnetic performance by Clarke, who proved that there's pretty much nothing he can't do amazingly well, and he was well-matched with Jennifer Beals (The L Word) as his character's former partner who rose through the ranks to become the Superintendent of Police. There wasn't a weak link in the ensemble, which also included Delroy Lindo, Matt Lauria (Friday Night Lights), Todd Williams, and Devin Kelley (Covert Affairs). It was a true shocker when this one got the axe - but it remains one of the best single seasons of television ever made.
The Equalizer
TV's most impressive hero in the 1980's was easily Robert McCall, the former spy whose idea of retirement was helping the less fortunate on CBS's The Equalizer. McCall didn't need to come up with a witty one-liner or shoot someone to prove that he was a badass; he just was one, with his unnervingly calm presence and willingness to take on any sort of injustice. His clients were average folks in sadly plausible situations, beyond the usual ones you'd see on TV, and he wasn't your typical hard-charging vigilante. As played by the late Edward Woodward, he had class while he was putting bad guys in their place. You'd be hard-pressed today to find a character as principled as McCall was. Making great use of its New York setting, The Equalizer gave us a hero who was always just a phone call away - and it never got old to see him confront someone who deserved it.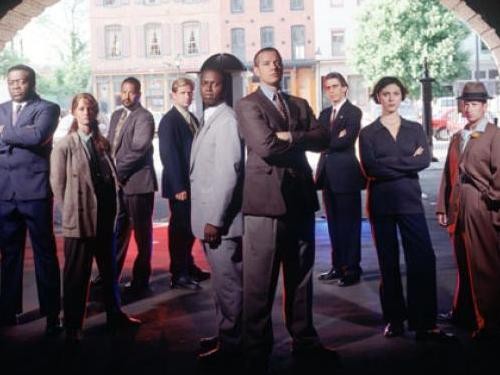 Homicide: Life on the Street
David Simon's Homicide: A Year on the Killing Streets is one of the best books ever written, so it's not surprising that the TV series created from it lands on this list. The gritty, compelling crime drama introduced small-screen audiences to award winners Andre Braugher (Last Resort) and Melissa Leo (The Fighter), as well as actor-director Clark Johnson (S.W.A.T. and countless TV shows). Richard Belzer originated his Law & Order: Special Victims Unit character John Munch on Homicide: Life on the Street (which crossed over with SVU as well as the original L&O during its run). The show was a departure from the usual New York or Los Angeles-based cop dramas, giving audiences a sense of Baltimore along with cases that were complicated, thought-provoking, and not always solved. Though it never quite recovered from the departure of Braugher, there are numerous episodes of Homicide that stand among the best ever. Try watching "The Subway," with a pre-Law & Order: Criminal Intent Vincent d'Onofrio, without getting rattled.
Human Target
A breath of fresh air upon its arrival on FOX, Human Target was the best TV adaptation of a comic-book property, and one of the most well-done in that genre, period. Series creator and first-season showrunner Jonathan E. Steinberg (Jericho) clearly loved the material, and had a great team around him to get it made right: comic co-creator Len Wein, director Simon West (Lara Croft: Tomb Raider), and scoring genius Bear McCreary (Battlestar Galactica), to say nothing of a stunt team that created awesome, film-quality action for the small screen. Great TV shows always come down to character, though, and Steinberg and Co. found the absolutely perfect Christopher Chance in Mark Valley, who actually improved on a great hero with his multifaceted performances. Jackie Earle Haley (Watchmen) was another dose of awesome as Chance's enigmatic associate Guerrero, and both were balanced out by Chi McBride (Boston Legal) as the straight-laced Winston. It was a fun, exciting, epic adventure that was like nothing else, and it's still missed.