Beyonce's New Movie Role, Chris Brown To Perform, More

Weekly Music News:
Jive Records is having a pretty big week with big news and comebacks from artists like
Chris Brown
,
Ciara
, and
Britney Spears
. The Britney fans will be thrilled to know that her new single "3" will officially make its radio premiere today, September 29.
DJ AM
's reality show gets the green light,
Chris Brown
returns to the stage, Ciara readies new album and
Diddy
leaving Atlantic Records round's out this week's music news.
Beyonce tapped for new movie role
According to the Hollywood Reporter,
Beyonce
is being eyed to star in a new movie. The film is said to be a remake of the 1976 film,
A Star Is Born
. This third remake of the
original film
starred
Barbra Streisand
and
Kris Kristofferson
. The plot of the movie is about a well-known musician who falls in love with an up-and-coming singer. As their relationship grows his career begins to plummet. This will be Beyonce's 6th film as she has starred in a collection of movies including "
Austin Powers in Goldmember
", "
Dreamgirls
s" and most recently "
Obsessed
". The recession has clearly been good to Beyonce.
MTV will air DJ AM's reality show
It has been confirmed that MTV will air DJ AM's "Gone Too Far", a drug-intervention reality show. The fate of the show was in question after the popular DJ was found dead in his New York City apartment as a result of an alleged drug overdose. DJ AM's goal with the reality show was to help other addicts who were immersed in substance abuse. According to Billboard, MTV is currently still deciding when they will premiere the show, which had a premiere date set for October.
Diddy prepares to leave Atlantic Records
In a sudden change of plans, music mogul Sean "Diddy" Combs announced that he will be leaving Warner Music Group/Atlantic Records at the close of this month. In a statement released Friday, September 25, Diddy announced his career change by saying, "Now that the term of the Warner deal has ended, I have elected to accept an opportunity to move my recording career and future label venture to another company." Though Diddy will be departing from Warner Music Group, the artists under his label, Bad Boy Records, as well as its catalog will remain at Atlantic Records. His LP Last Train to Paris has a scheduled release date set for April 2010.
Bad Boy Records rumored to close its doors
The label that was once home to the late
Biggie Smalls
is rumored to be on the brinks of officially shutting its doors for good. According to RashEntertainment.com, Diddy is in talks to end the label's reign. The announcement about the label's scheduled demise is said to be announced in the coming days. There is even word that though Diddy may be in negotiations to sign with Interscope Records, it may be just for himself. The artists under his label which includes Day 26,
Donnie Klang
,
Cassie
and
Janelle Monae
to name a few may find themselves label homeless. Diddy has yet to release a statement on the matter.
Chris Brown set to perform in first concert since conviction
Chris Brown is ready to move past his Grammy night drama and get back to performing. The "Forever" singer will perform in his first concert since his conviction for physically assaulting ex-girlfriend
Rihanna
as a headliner in New York radio station's "Powerhouse" concert. Other acts that are scheduled to take to the stage are
Keri Hilson
, rapper
Fabolous
, Day 26, The Dream and more. The concert will take place at New Jersey's Izod Center Tuesday, October 27th. Tickets for this event are on sale now via Ticketmaster.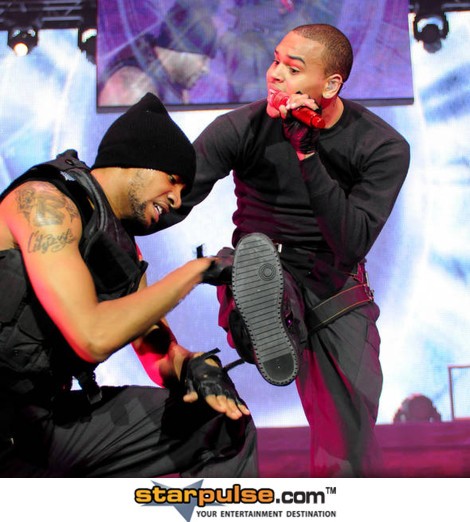 Chris Brown in Concert at the O2 Arena - January 3, 2009 © Solarpix / PR Photos
Kanye West readies new album
Kanye West
may have told
Jay Leno
that he plans on taking a break from the spotlight but he may have to renege on that promise as there may be an album in the works. Producer 88-Keys took to his twitter account over the weekend to boast about completed tracks he previewed off of Kanye West's new album. With the news of a new Kanye West album floating around, people are starting to believe that his VMA tirade may have been a publicity stunt; that paired with the rumor that Kanye and
Taylor Swift
have the same agent has caused a few eyebrows to raise.
Ciara set to release new album in 2010
Ciara
is not letting a failed 3rd album get her down. Instead, she's currently back in the studio working on the follow-up to
Fantasy Ride
. According to producer Tricky Stewart, Ciara spent all summer working on her new album and is looking to make it her best album ever. The producer told Rap-Up.com that he and singer/songwriter The Dream will be writing and producing her entire album. Unlike her last effort that saw features from Justin Timberlake , T-Pain, and Chris Brown to name a few, this album will have no features with the exception of The Dream. Two confirmed tracks off of the album are titled "Speechless" and "Gifted." The untitled project is scheduled for release early 2010.
Video Premiere: Melanie Fiona-It Kills Me
Here is the new video from Melanie Fiona for her song "It Kills Me" off of her album
The Bridge
in stores now. The video features an appearance from actor Adam Rodriguez.
Story by
Samantha Greaves
Starpulse contributing writer