Beyonce Kicks Off Super Bowl Halftime Show Press Conference By Singing The National Anthem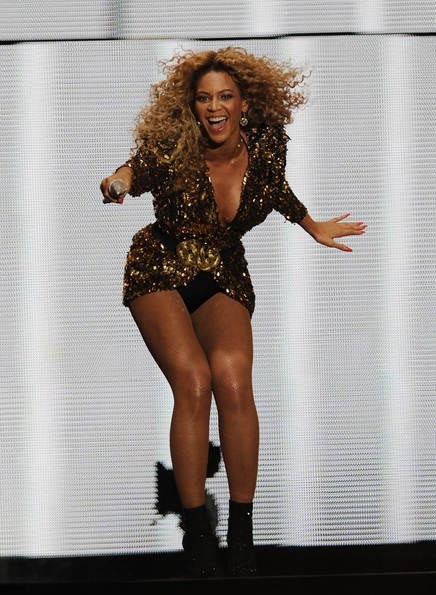 Alicia Keys may be singing the National Anthem at Super Bowl XLVII, but Beyonce felt the urge to belt it out one more time on Thursday to prove to her critics that she can handle singing it live.

Last week the former Destiny's Child singer came under fire for appearing to lip-sync the Star Spangled Banner prior to the Presidential Inauguration in Washington D.C.; causing controversy after members of the U.S. Marines Band, who accompanied the singer, implied that she mimed the words to a pre-recorded backing track.

But during a press conference in New Orleans, Louis. promoting the Super Bowl halftime show, the singer opened with a rousing solo performance of the song in front of the media before commenting on her performance at the Inauguration.

"I am a perfectionist and one thing about me, I practice until my feet bleed and I did not have time to rehearse with the orchestra," she explained. "It was a live television show, a very, very important, emotional show for me, one of my proudest moments, and due to the weather, due to the delay, due to no proper soundcheck, I did not feel comfortable taking a risk.

"It was about the President and the inauguration and I wanted to make him and my country proud so I decided to sing along with my pre-recorded track, which is very common in the industry, and I'm very proud of my performance."

So will she be singing live during this year's much-hyped halftime extravaganza?

"I will absolutely be singing live," she says. "I am well rehearsed and I will absolutely be singing live. This is what I was born to do; what I was born for... I've had a 16-year career and feel, like, all of the things that I've done have prepared me for this."

Beyonce also says she's very nervous for her upcoming performance, despite preparing for over four months.

"When I was driving up and saw the Superdome I got chills," she said. "My family is from New Iberia, so it really makes me emotional to have a halftime performance — I think of all my heroes. ... When I got into the Superdome, I took my shoes off and planted my feet into the ground, and I just ran."

During the last few weeks all sorts of rumors about special guests during the singer's performance have also come up, most notably that there will be a Destiny's Child reunion or husband Jay-Z joining her during her performance.

"I don't know," she said with a big smile.

The trio released a new hits album, "Love Songs," on Tuesday, which includes a brand new single, "Nuclear"; so it's a strong bet that Kelly Rowland and Michelle Williams will be joining the show.

Williams, however, recently told WRUG media that she won't be at the Super Bowl because she'll be starring in the musical "Fela!"

But with no special guest announcements (usually these shows aren't just all about one star) we're not buying it.