Beyonce, J. Lo, Madonna & More Gather For 'Sound Of Change' Charity Gig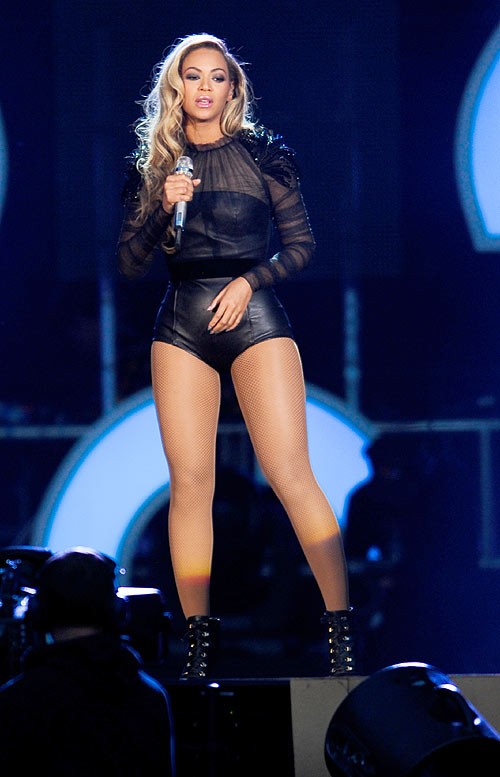 Beyonce took to the stage in London with the likes of Madonna and Jennifer Lopez on Saturday night to promote awareness of women's issues such as health, education and justice for women worldwide by raising money for some 200 organizations around the world via the Chime For Change foundation.

Fans filled the seats of London's Twickenham Stadium for The Sound Of Change concert, which featured sets from the likes of Duran Duran frontman Simon LeBon, Timbaland, Jessie J, Rita Ora and Ellie Goulding.

Jay-Z made a special appearance during his wife's headlining set to join her on smash hit "Crazy In Love"; while Mary J. Blige joined J. Lo for a cover of the Beatles classic "Come Together."

Salma Hayek, who co-organized the event with Gucci Creative Director Frida Giannini and Beyonce, was among the celebrity guests taking the stage to ask concertgoers and viewers of the telecast, aired on Britain's BBC, to donate to the cause. She said her goal was to make sure there isn't "a single corner of the world where women didn't have access to human rights.

"This is such an incredible night for all of us," Beyonce said during her set. "Because of you all, we have raised more than $4 million."

Madonna, who did not perform at the event, said, "I keep telling people I want to start a revolution, but my revolution doesn't involve bloodshed and violence. My revolution starts with education. My revolution is about achieving a higher level of consciousness, but this cannot start without education.

"We cannot change this world, nor begin to treat each other with human dignity, without an education. Let tonight be the beginning of this revolution because education is not a luxury, it is a basic human right."

The singer promised to fund a school in Pakistan if fans helped out via their donations.

Other stars taking the stage to ask for donations between musical numbers included Jessica Chastain, James Franco, and husband-and-wife stars Ryan Reynolds and Blake Lively.

The show didn't come without controversy though. Promoter Harvey Goldsmith blasted the BBC for their coverage, which was restricted to only an hour of highlights from the show, according to London's Daily Mail.

Goldsmith said the concert aired in over 100 countries but the network virtually ignored it and were more concerned with covering the upcoming Glastonbury music festival, which they'll send nearly 300 people to cover.

"I think all the BBC is interested in is Glastonbury. They have about five million people working on it. It's their jolly and everything else gets short shrift," he said.

The network claims it chose to pare down coverage of the concert because it already had too many sponsors.