Beyonce Gives Hundreds Of Gift Cards To Shoppers At Small Town Walmart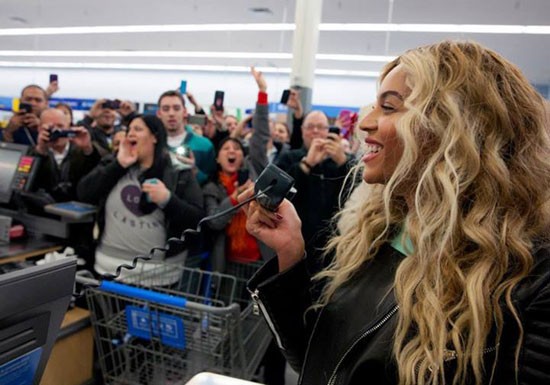 Shoppers at a Massachusetts Walmart were shocked on Friday when Beyonce handed out hundreds of gift cards to fans during a surprise shopping trip to the store.
The singer stopped by the big box store in Tewksbury and gave every person on site $50 gift cards, which came enclosed in envelopes signed by the pop star. She bought a total of 750 cards, costing her $37,500, the store manager told Us Weekly.
One Walmart customer posted an image of the singer on Instagram with the caption: "Beyonce just hit up walmart and purchased everyone in the store $50 gift cards. Beyonce for president."
The singer posted an image on Facebook, promoting both her charitable stop and her album: "A little shopping today at Walmart. #BEYONCÉ is available now in stores."
Beyonce made the stop while en route to Boston, where she's performing as part of her "Mrs. Carter Show" world tour.
She was photographed picking up a copy of her self-titled album, which she released exclusively on iTunes last week, stunning fans and celebrities alike, who had no idea she had completed her fifth studio album.
Physical copies of the album became available on Friday. Target is refusing to sell it because it was released on iTunes first.