Beyonce Duets With Blind Fan During Concert In Australia - Watch!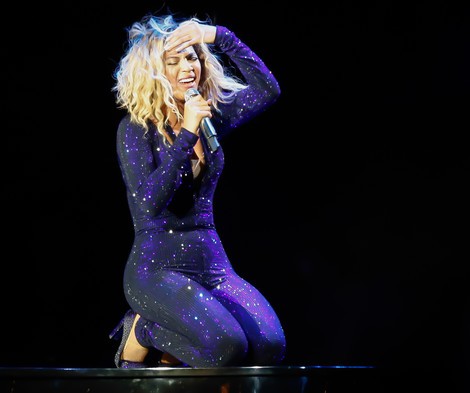 Beyonce thrilled a 13-year-old and legally blind fan in Australia yesterday when she invited the teenager to sing a duet.
Ellie Kotkis arranged the meeting between Beyonce and her younger sister Sophie. She told Perth Now, "She's never really been able to go to a concert due to logistical reasons so I made a video about Sophie. Even with everything that she's been through, she's been able to do so much. She raised over $1000 for people with multiple sclerosis at the Runamuck [a MS Society fundraiser]. I put that all in the video and I just said that I think someone as amazing as Sophie deserves to meet someone as amazing as [Beyonce]."
Ellie gave her video to Kalkidan Forward, who works for Hope for Children. The video was then sent to Beyonce's manager, and soon after Sophie was invited to attend the concert - but didn't know that Beyonce would visit her in the middle of it.
In the video above, you can watch Beyonce approach the teenager and say, "I have a very special young lady here. Tell everybody your name, beautiful!" After Sophie enthusiastically said her name into the mic, Beyonce replied, "Everybody say, 'Hello, Sophie! Sophie, I think I need you to help me sing this song! You think you can sing, 'To the left?'"
Beyonce then sang Irreplaceable while giving the mic over to Sophie so she could sing her part of the song. Ellie said the encounter between Beyonce and her little sister was "amazing."