Beyonce And Lady Gaga In Sync in 'Video Phone,' Chris Brown's 'Crawl,' & More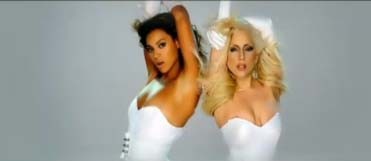 Weekly Music News:
Because there was a collection of videos that premiered late last week as well as the start of this week, this week's column will house some of those video premieres.
Beyonce
and
Lady Gaga
's video for "Video Phone",
Rihanna
's video for "Russian Roulette" and
Chris Brown
's video for "Crawl" are the music videos that round out this week's music news. Remember to sound off in the comments and let us know whose video you felt was worth the hype.
Beyonce and Lady Gaga are in sync in "Video Phone (Remix)" video
Here is the new highly anticipated video from Beyonce and Lady Gaga for Beyonce's song "Video Phone." The usual crazy outfits donned by Lady Gaga were left on the hanger as she stayed true to her words when she said that she will channel Beyonce for the video. Lady Gaga and Beyonce will release albums on November 23. Lady Gaga will release Fame Monster while Beyonce will release her CD/DVD set I Am…Yours.
Rihanna is fearless in "Russian Roulette" video
Here is the new video from Rihanna for her song "Russian Roulette." The video stays true to form showing Rihanna participating in an actual game of Russian roulette as well as getting shot. There are a bunch of subliminal messages in this video, can you spot them? Rihanna is scheduled to release her album Rated R on November 23.
Chris Brown tries to redeem himself in "Crawl" video
Here is Chris Brown's new video for his song "Crawl." Both he and Rihanna premiered their music videos on the same day and the videos seem to tell a familiar tale. Chris Brown has been trying to clean up his image and prove to his fans that he really is sorry, do you think Chris delivered in the video? Chris Brown is scheduled to release his album Graffiti on December 8.
Alicia Keys is superwoman in "Try Sleeping With A Broken Heart" video
Here is the new video from Alicia Keys for her song "Try Sleeping with w Broken Heart." Alicia's videos have become somewhat different from the videos she is usually accustomed to releasing. This video shows Alicia tapping into her imagination and embodying super powers. It is kind of reminiscent of Will Smith's film Hancock. Alicia Keys is set to release her album The Element of Freedom on December 15.
Shakira is sultry in "Give It Up To Me"
Here is the new video from Shakira for her song "Give It Up To Me" that features rapper Lil Wayne. This seems to be a different style for Shakira. She gives very different choreography than her usual; she even has a squad of dancers. Shakira's She Wolf is scheduled to be released on November 23.
Story by
Samantha Greaves
Starpulse contributing writer
twitter.com/samanthamy