Beverly Johnson Lands Reality TV Series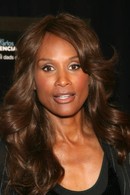 Supermodel/actress Beverly Johnson is opening up her home to TV cameras after landing a reality show on Oprah Winfrey's network.

Beverly's Full House will document the beauty's attempts to patch up her strained relationship with model daughter Anansa and show the dramas as the pair live together in Johnson's California home.

Anansa's husband, football player David Patterson, and her baby daughter will also star in the show, which is set to debut on the Oprah Winfrey Network (OWN) in February.