'Beverly Hills, 90210' Remake: It Should Have A Fighting Chance

It seems America's favorite zip code is back:
Beverly Hills, 90210
is returning. After first hearing about the CW planned 90210, reservations were cast. Who would replace the beloved Nate from the Peach Pit? The resident bad-boy Dylan McKay? His murdered father who actually turned out to not be murdered but in the witness protection program? And who has the chutzpah to step into Donna Martin's overpriced heels?
Well, it seems the details are still being worked out. Rob Thomas, celebrated young adult author and writer of
Veronica Mars
, is the penning the script. What we do know, via reports of cast breakdowns, is that the show centers on the Mills family. The Mills decide to move, ala the Walshes, to Beverly Hills after living in St. Louis.
The Mills family consists of patriarch Harrison Mills, a graduate of Beverly Hills High School, his wife, Celia, and their two children: daughter Annie and adopted son Dixon. Cast reports indicate that actors of all ethnicities are being considered...a welcome change from the previously lily-white cast of the 1990s.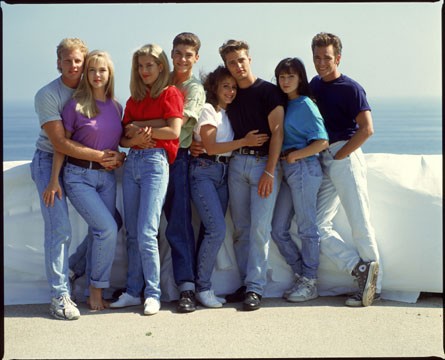 Siblings Daphne and Max Silver are two more planned characters. The Silvers are descendents of David Silver, played by
Brian Austin Green
in the original series. And, if memory serves, David married Donna Martin in the series finale, so perhaps Daphne and Max are their offspring?
Navid Shirazi is a student of Middle Eastern descent and runs the school's television newscast. The Beverly Beat must have fallen apart once Andrea Zuckerman graduated. Ethan Ward is the requisite jock, with Naomi Bennett rounding out the cast as Ethan's super hot, super spoiled girlfriend. A Kelly Taylor 2.0, if you will.
Casting for the show is still not complete.
Jennie Garth
has been rumored to be cast as the school's teacher of fashion design, which begs the question: Fashion design? What ever happened to good home economics? According to
People
,
Tori Spelling
would like to have a cameo as the hot, young stepmother of one of the characters. And with her bed and breakfast closing and her lack of Lifetime movie work as of late, perhaps she will get her wish.
In a television market flooded with teen dramas like
The Hills
,
Gossip Girl
and
One Tree Hill
, only time will tell if this show actually succeeds. But with the cult-like following of the original series, combined with the talents of Rob Thomas, it should have a fighting chance. And if the series' success looks doubtful, perhaps the cast can march on down to City Hall to plead their case...hey, it worked for Donna that time she got drunk at prom and they wouldn't let her graduate.
Story by
Christina Sussman
Starpulse contributing writer