Betty White Wants To Celebrate 90th Birthday With Robert Redford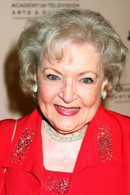 Veteran TV star Betty White wants Robert Redford for her 90th birthday.

The former Golden Girls star celebrated her milestone birthday with celebrity pals like Morgan Freeman, Valerie Harper and Ellen DeGeneres at a taped-for-TV Los Angeles gala on Saturday - and she made it clear there was only one thing she wanted for her birthday - the star of The Natural.

She said, "I don't want to impose on him, but it would be very nice."

And ever the joker, White added, "Don't tell George Clooney I'm dating Robert Redford. You know how they are."

White actually turns 90 on January 17 and her televised gala, A Tribute to America's Golden Girl, will air the day before.

Others paying tribute to White included: Tina Fey, Ray Romano, Seth Meyers, Carl Reiner, Jennifer Love Hewitt, Mary tyler Moore, Ed Asner and Hugh Jackman.