Betty White Gets 'Naked' For LA Animal Shelters (Video)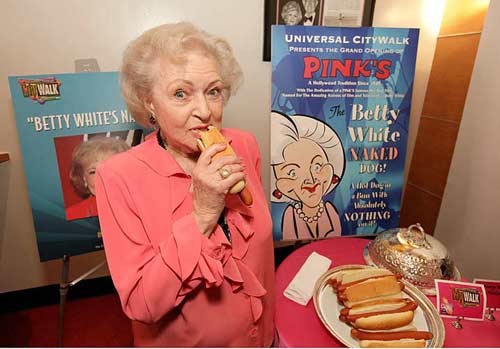 Legendary actress Betty White ("Mary Tyler Moore Show," "The Golden Girls," "The Proposal") likes her hot dogs naked!—as in a delicious Pink's hot dog in a bun…with no toppings, no enhancements.

In her honor, Miss White was accorded an homage offered select notables, a hot dog in her name, unveiled at Universal CityWalk (www.CitywalkHollywood.com) yesterday, when the versatile entertainer helped open the first Pink's ever in the San Fernando Valley.

The "Betty 'Naked in the City' Hot Dog" was front and center at the "Grand Opening" which benefited LA Animal Service's East and West Valley Animal Shelters.

Pink's, which first opened at its original location on La Brea Avenue in Hollywood 70 years ago, continues to be a Southern California staple and popular hotdog emporium.

Over 60 years ago, Miss White launched into television as the host of a local TV show. Almost overnight, the small screen fell in love with her versatility and likeability and as the mass medium grew so, too, did White's presence, first as a frequent guest on TV specials, assorted variety series and game shows and later as a regular on landmark television shows like "Mary Tyler Moore" (Sue Ann Nivens) and "The Golden Girls" (Rose Nylund).

In total, White has won six Emmy Awards and been nominated 18 times. Of late, the venerable actress has been featured in films, most recently opposite Sandra Bullock in "The Proposal." At 88 years-old, White has been rightfully called a national treasure.

On May 8, Betty White will host NBC's "Saturday Night Live."