Bethenny Frankel's Shocking Past Revealed In The New PEOPLE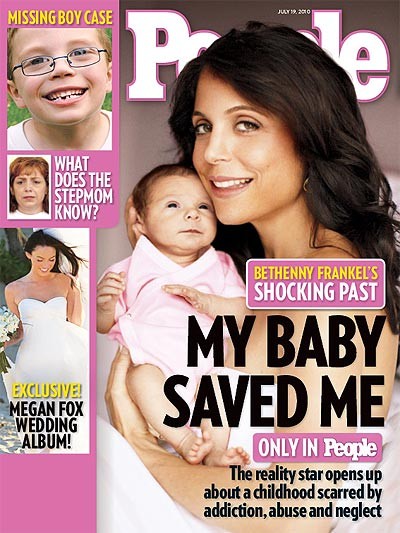 Reality star Bethenny Frankel opens up in this week's issue of PEOPLE about how she survived a painful childhood scarred by addiction, abuse, and neglect, and found joy as the wife of sales executive Jason Hoppy, 38, and as mother to their baby girl Bryn. "I never had a true childhood," the 39-year-old star of "Bethenny Getting Married?" tells PEOPLE. "There was a lot of destruction: alcohol abuse, eating disorders and violent fights," she says.

The only child of legendary horse trainer Bobby Frankel and his first wife, Bernadette, Bethenny was 4 years old when her father walked out, leaving her with a mother who was "extremely volatile. She was never a mother to me," Bethenny tells PEOPLE. Bethenny temporarily moved with her father to L.A., but he "lived a very hotshot life - drugs, young girls," she recalls. "It wasn't a life for a little girl. I never watched cartoons. I was always at restaurants or the racetrack."

After her mother - whom she describes as a "beautiful Michelle Pfeiffer lookalike" - married another horse trainer, John Parisella, Bethenny returned to New York at age 5 and moved at least seven times over the next 10 years. Bethenny tells PEOPLE that her mom "was always drinking," behaved erratically, and had explosive arguments with Parisella - who, Bethenny says, sometimes became physical. She remembers her mother "smashing things: dishes, pictures, the TV - anything she could see," she says. Sometime a young Bethenny would hide in the closet to escape. Other times, she was the one who called the police to stop it. The next day, however, she'd often hear them reconciling - in the bedroom. "I heard everything," Bethenny reveals. "It would make me so angry. It would kill me." Despite all the chaos, she still calls Parisella "the only father I've ever known." Even though it was Parisella, she says, who taught her how to gamble at age 13, "he took care of me when my mother wasn't around."

It was Bethenny who often ended up looking after her mother, who she claims was a severe bulimic. She recalls helping clean up the bathroom - and her mom - after severe bouts of purging. "My mom would say to me, 'Don't tell your father,'" Bethenny says sadly. When contacted by PEOPLE, Bernadette, now 59 and divorced from Parisella for more than two decades, confirmed that arguments with her husband sometimes resulted in calls to the police, but denied ever smashing anything and further said she never had an alcohol problem or bulimia. Parisella, however, told PEOPLE that Bernadette showed "signs of bulimia" and that she drank heavily. As for any violent behavior toward his then-wife, Parisella admitted that on one occasion, "when she was in a frenzy, I slapped her," but denies ever physically beating or harming her.

Over the past 10 years, Bethenny has barely spoken to her mom. "I'm never going to want her in my daughter's life," she says. Still, Bethenny tries to be magnanimous: "She did the best she could. I'm sure she lived for me as much as I do Bryn, and there is something very frustrating and tragic about that."

Bethenny is also the first to admit she's had her own struggles - some not unlike her mother's. Though she steadfastly maintains that she has never had an eating disorder, Bethenny says for years her relationship with food was severely skewed. Starting at age 13, she alternately binged and then starved herself in her quest for thinness. "I was owned by dieting," she admits to PEOPLE. "I hated myself. I was completely obsessed and consumed."

Now, happier days lie ahead for Bethenny. "She sees in me the kind of father for Bryn that she always wanted for herself," her husband Jason tells PEOPLE. Bethenny says he "taught me what it meant for someone to love me and to take care of me emotionally. I am so in love." Regarding her success and her priorities, she says, "I live for this baby. Everything that's happened is exciting, but it's nothing like having her in your arms. I just want to give her the life I didn't have."

Get the whole scoop and a whole lot more in the new issue of PEOPLE, on newsstands now; or visit PEOPLE.com!