Bethenny Frankel Launches Four New Skinnygirl Drinks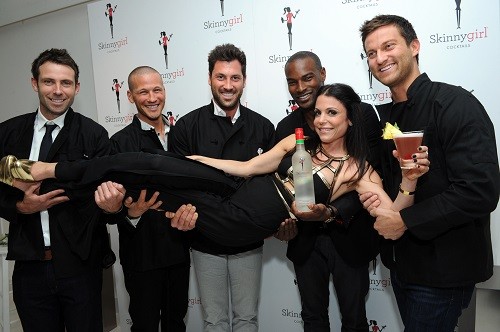 The hottest new girls in town are here. Bethenny Frankel recently unveiled four new Skinnygirl flavors: Mojito, Sweet 'n Tart Grapefruit Margarita, White Cherry Vodka and Moscato, even tending the bar of her launch party along with some special guests: Maksim Chmerkovskiy, Tyson Beckford, JP Rosenbaum, Chris Bukowski and Graham Bunn.

While attendees spent the evening in an al fresco setting – hopping from laid-back lawn party, to soiree
under the stars while sipping on the new drinks– Bethenny and her fellow "guest bartenders" poured
cocktails throughout the night. All cash tips raised were donated to Dress For Success, helping
disadvantaged women on their paths to financial independence.

The four new products expands Skinnygirl® Cocktails' offerings across each of its categories, including: Ready-to-Serve cocktails, Wine and Vodka. The launch also kicks off the new season of warm weather and outdoor entertaining. Cheers!