Bethenny Frankel Flaunts Her Bikini Bod In Miami, Talks About 'Brutal' Divorce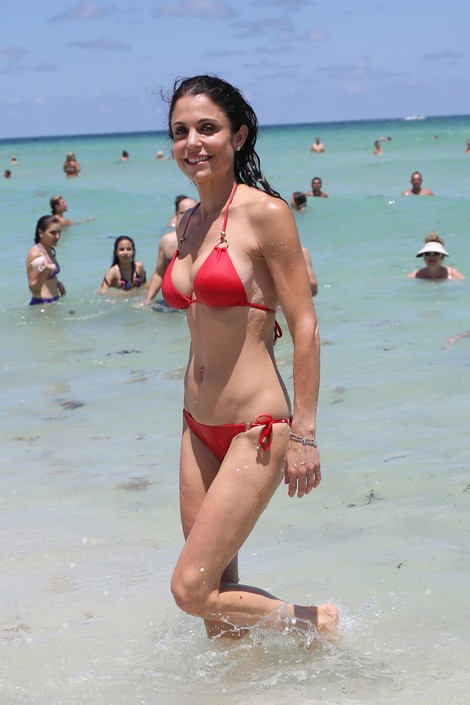 We spotted an incredibly fit Bethenny Frankel, 42, wearing a red bikini in Miami Beach earlier today. The reality star and businesswoman spent some time soaking up the sun and hanging out in the water.
While promoting some of her new projects, she opened about her divorce and how she copes with being single on ABC's "Nightline."
After nearly two-and-a-half years of marriage, the "Real Housewives of New York" star and Jason Hoppy split up in 2012. They have a daughter, Bryn, 3, and have been engaged in a long custody battle.
"I'm going through a brutal, brutal time," she confessed in the interview. "It really, really is. I mean, there's no other way to slice it."
Frankel and Hoppy starred together in "Bethenny Getting Married?" and "Bethenny Ever After."
"I felt like I disappointed people, because I felt like I was this role model, that represented the fairy tale," Frankel said. "I'm definitely bruised."
She confessed that she felt "dirty" for fooling people into thinking she had a perfect relationship and life.
She unabashedly admitted she likes to have a drink (or exercise) to take her mind off her personal problems. "If I'm exercising or doing yoga it'll take the edge off on some level. And then I like to have a Skinnygirl cocktail. I'm not going to lie. Honestly. It's mommy juice," she explained.
As for getting back in the dating game? "I would imagine eventually, sex would be a nice release, but you know, who knows," she said.
But don't feel sorry for her. Frankel reportedly sold her Skinnygirl cocktail business to Jim Beam in 2011 for an estimated $100 billion, and she just released a new advice book titled "Skinnygirl Solutions." Also, her new talk show "Bethenny" premieres on Sept. 9.