Bethenny Frankel Devastated Over Split From Jason Hoppy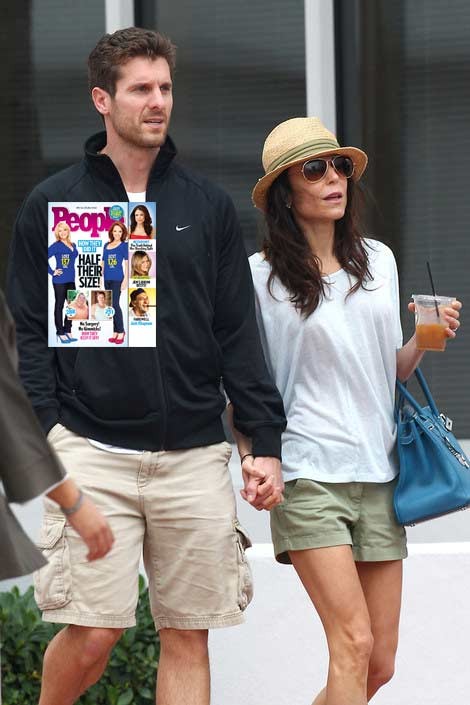 After less than three years of marriage, Bethenny Frankel and Jason Hoppy call it quits in an emotional breakup. While a source tells PEOPLE that a reconciliation is out of the question, both Frankel and Hoppy plan to keep things amicable for their daughter Bryn, 2. In the meantime, "Bethenny is devastated," says a friend. As for Hoppy, who is still wearing his wedding ring, "the split has been tough. You go into a marriage thinking it's going to be forever. When you realize it's not, it's really hard – especially when a child is involved." Though the couple argued over the years, "they tried to make it work, but it just got too hard to be husband and wife," says a friend.

Last summer Bethenny launched her own daytime talk show which, after a successful six-week trial run in six cities, will be nationally syndicated this fall. "The stress of my business may exacerbate our issues," she told People last May. Her level of dedication to her work may have also led to problems. "With Bethenny it was her way or the highway," says a source. When the family relocated to L.A. briefly last summer for a taping, "it was stressful for him because he's a fish out of water," Frankel said of her East Coast born-and-raised husband. The idea of relocating to L.A. when the show returned in 2013 was an ongoing source of conflict. "It would have been devastating to his family," says a mutual friend. "And Jason didn't want his daughter raised in L.A." So once the show's six-week run wrapped, "she took six months off to be with her family, be a mom and a wife and quietly live their life." Sadly, that attempt at healing their marriage didn't work.

Now Frankel and Hoppy are figuring out how to move on. They still live together in their Tribeca loft, a friend tells People. And a source says that Frankel successfully "fought tooth and nail" to move Bethenny's production to New York City next fall. "Bethenny would have loved to do the show in L.A., but she will not do that to her family," says a source. "No matter what, she wants to keep her family together."

*Also In This Week's 'People'*
Inspirational weight-loss and body transformation stories of ordinary Americans who have struggled with – and succeeded at – losing tremendous amounts of weight without the help of surgery or celebrity trainers are featured in this week's double issue of People in a special "Half Their Size" 23-page cover story. By giving up binges on hot dogs, doughnuts, and tubs of frosting, six ordinary People, who lost a total of 947 lbs. (and others) share intimate details about their emotional weight-loss journeys.

"I was always trying to be the funny, fat guy," Richard Neal, 28, tells People. "But I was dying inside. A snack would be two packages of hot dogs before dinner. I would just eat because I was mad or sad…Now I'm a fitness coach." Kristin Winter, 42, explains why she was an emotional eater. "I was scrawny growing up. But when I was 18, I was raped," she tells People. "I made the connection that if I had been unattractive, it wouldn't have happened, so food became my coping mechanism." Leah Fernandez, 33, lost weight in the face of tragedy. "Last May my husband, TJ, ran my first 5k with me. His ankle started to give him issues, but he yelled, 'Keep going! You can do this!' The next day he died in a motorcycle accident," she tells People. "It took the wind out of me, but the inner strength that emerged from my weight loss helped me cope," she says. "Even through my grief, I feel him giving me a first pump for reaching my goal."


How People's "Half Their Sizers" Shed a Combined 947 Lbs.


| | | | | |
| --- | --- | --- | --- | --- |
| Name (Hometown) | Then | Now | Total Lbs | How They Lost The Weight |
| Leah Fernandez (Atlanta, Georgia) | 251 | 125 | 126 lbs. | Jenny, walking |
| Kristin Winter (Austin, Minnesota) | 276 | 136 | 140 lbs. | Medifast |
| Richard Neal (Portland, Tennessee) | 426 | 200 | 226 lbs. | P90X |
| Ashley Donahoo (Pace, Florida) | 288 | 151 | 137 lbs. | Livestrong.com |
| Caroline Jhingory (Washington, DC) | 303 | 149 | 154 lbs. | Cardio, no bread, rice, pasta |
| Candice McCain (Cumming, Georgia) | 327 | 163 | 164 lbs. | Preplanned menus, activities |
SHE LOST ¾ HER SIZE!: Missy Hendricks had ballooned to 526 lbs. by the age of 23. "Food was my comfort," Hendricks, now 33, tells People. Over the decade, she overcame heartbreak and shame to lose an astounding 395 lbs. "I had depression, thyroid issues, and trouble breathing. My doctor told me if I did not change my ways, I would kill myself," she explains. "Then he asked me to try the Atkins Diet. I followed the program to a tee. It was a challenge at times. But I returned 30 days later and dropped 30 lbs…By 2003, I lost 100 lbs…I'd get discouraged because the weight wasn't coming off fast. But I kept reminding myself it didn't come on overnight."

IT TAKES A FAMILY: When it comes to dropping pounds, a brother and sister, husband and wife, and mother and daughter, prove it's all relative. Growing up, twins Tom and Michelle Larson, 26, didn't sweat over their expanding waistlines. "We always had friends, and they would never say anything about our weight," Michelle tells People. But when Tom turned 19 weighing 353 lbs. at 5'8", "I saw how big I was in pictures, and I wasn't going to accept that anymore," he says. Over two years he shed 173 lbs. by strength-training three times a week and playing basketball. "People would say Tom looks amazing. I wanted to be amazing too," Michelle says. Now, with the help of Weight Watchers and Tom's support, Michelle is 40 lbs. away from her ideal 5'7" figure – and closer to her brother. "If it weren't for him, I'd be on my way to 500 lbs."

When Sarah and Matt Stockdale saw photos of themselves at a 2008 New Year's Eve party, they knew exactly what their resolution was going to be. "We were like, 'Let's get healthier,' and then we started to realize how overweight we were," says Matt, 27, who could put away 50 chicken nuggets in one sitting. "We stopped drinking sodas and started researching the right foods online," adds Sarah, 28. So as the high school sweethearts diligently tracked their calorie intake on homemade spreadsheets, Matt said goodbye to 130 lbs. and Sarah shaved off 60 lbs. But the biggest factor in their success was mutual motivation. "Our goals are always evolving," Matt says. "But I couldn't have done this without her." For Shannon Newhouse, 26, life at 324 lbs. was "comfortable," she says. But when her doctor warned her that she was at high risk for diabetes, the first person she turned to was her mom, Patricia, 55. "She told me she loved me the way I was," Shannon says, "but that she would support me in whatever method I chose to lose weight." By watching Shannon overhaul her lifestyle into a knockout 136 lbs. in two years through Weight Watchers, "I was inspired," says Patricia, who followed suit to lose 55 lbs. with 15 more to go. "I had no idea I'd come this far," says Shannon, who is planning a 2013 wedding, "and my mom was a huge part in my journey."

CELEBRITY SIDEKICKS: Sometimes losing weight is easier with the support of a famous friend. People talks to Kathy Griffin and her assistant, Tiffany Rinehart (who lost 81 lbs.); Bethenny Frankel and her food blogger, Nicholas Feitel (who lost 66 lbs.); Jessica Simpson and her childhood friend, Stephanie Terblanche (who lost 40 lbs.); and Joe Jonas and Jonas Brothers' musical director John Taylor (who lost 137 lbs.) to learn their secrets to slimming down. (Page 101)

TOP CHEF CELEBRITY SLIMDOWNS: People reveals the diet secrets and delicious recipes that helped three former contestants – Richard Blais, 40, Antonia Lofaso, 36, and Chris Crary, 31 – get in shape. "I'm so excited I can fit into my old jeans," Lofaso tells People. "Everyone jokes about gaining the freshman 25 with your first restaurant, but I put on 30!" she explains. The two-time chef-testant followed a 12-day doctor-approved vegan cleanse and then continued to eat vegan for three months and lost 22 lbs. Crary, best known as "Malibu Chris" on Season 9, says "Chefs have odd eating habits."

His epiphany came during a 2008 photo shoot where the crew told him, "You look like Jack Black," he recalls. "I cut out alcohol and soda and lost 17 lbs. in 30 days. Then I stopped eating fried foods and lost another 10," he says. Tipping the scales at 230 lbs., Blais, the Top Chef All-Stars champ, knew he had to shed some pounds once he met his future wife, extrainer Jazmin, 33. "To get the girl, I had to turn it around," Blais, 40, tells People. So, instead of late-night binges he switched to early-morning runs. "The same feeling I would get from eating a whole pizza and bottle of wine, I get from running now," he says.

EXCLUSIVE BOOKLET - VALERIE BERTINELLI'S "FRESH START": To kick off a healthy New Year, People teamed up with Cooking Light, the nation's leading epicurean brand, to create a special eight-page editorial booklet focused on healthy eating and weight-loss tips. The digest-sized insert booklet, "Fresh Start," features an exclusive interview with TV star Valerie Bertinelli, who reveals the secret to maintaining her 40-lb.weight loss for the past five years, plus a "Celeb Slimdown Hall of Fame" including Kelly Osbourne, Jennifer Hudson, Ricki Lake, and Kelly Preston.

Katy Perry & John Mayer – It'S Getting Serious! "They're Happy Together"
Meet The 20 Ladies Of The New U.S. Senate: "My Goal Is 50 Percent Women," Says Kirsten Gillibrand
At Home With Chris Daughtry: "I'm More Than Happy; I'm Content"



The new issue of People magazine is on newsstands everywhere now.