Beth Riesgraf Talks 'Criminal Minds' and the End of 'Leverage'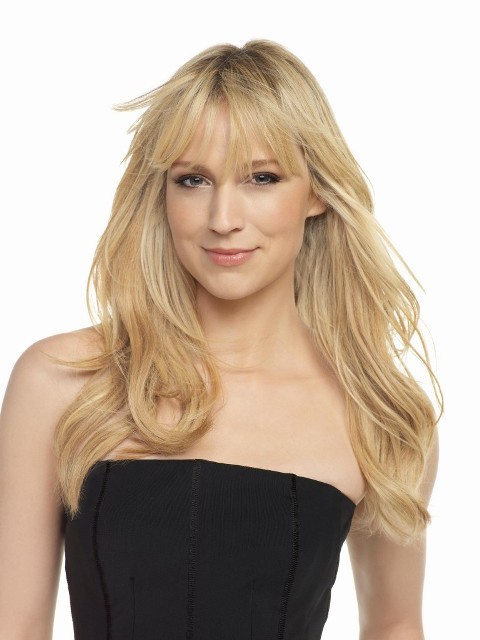 Leverage may be gone, but Beth Riesgraf is still very much around. The actress followed up her five-season run as Parker on the TNT caper drama with a three-episode stint as Maeve Donovan, a new love interest for Dr. Spencer Reid, on CBS's Criminal Minds. Beth recently visited BFTV to talk about her arc on Criminal Minds, what it was like to join another series, and her parting words for Leverage's devoted fans.
"Matthew Gubler called me to see if I would be interested in doing a spot on the show and if I was even going to be available. The dates worked out perfect with Leverage," said Riesgraf, explaining how she landed her Criminal Minds role, which at first was an off-screen part. "They told me 'At first it's just going to be your voice, we may not see your face for the first two episodes or at all.' They explained that Reid and [Maeve] had formed a relationship and they had never met or maybe never would meet. I thought it was really interesting and clever."
What also excited her about the opportunity was the contrast between the seriousness of Criminal Minds and her more lighthearted regular work on Leverage. "Tonally, you know, it's very different," she continued. "I loved switching it up."
The actress also enjoyed "meeting a new set of people. I like experiencing other stuff and other crews, and getting to play with a completely different look and completely different character for me," she added. The blonde Riesgraf sported dark hair as Maeve, a geneticist also contending with a dangerous stalker, who first appeared in the episode "God Complex."
As she was taking on the role of Maeve, Riesgraf was also saying goodbye to Parker, as TNT opted not to renew Leverage for a sixth season. The show ended with team leader Nate (Timothy Hutton) and longtime love Sophie (Gina Bellman) engaged and departing - leaving Parker in charge. Riesgraf's last words as Parker actually mirrored those spoken by Nate at the end of the Leverage pilot.
It was a conclusion that didn't come as a complete surprise to her. "I had a little bit of a heads-up," Riesgraf said. "I had gotten a little bit of insight earlier from [co-creator] John Rogers, because developmentally, with Parker's arc, I always would go to the writers before the season."
"Parker, I've been living and breathing her half the year for five years," she explained, adding that its sudden cancellation was "heartbreaking, but at the same time I knew I could walk away from it feeling satisfied and proud of what I did with her and what the show did."
Part of that includes a massive fanbase that interacts heavily with the cast through social media and once hosted a Leverage convention in Portland, Oregon, where the series filmed. Riesgraf emphasized how grateful she and all the cast are for the continued support of their fans. "I honestly am so blown away because I never expected the amount of support the show ended up getting," she said. "It just spread like wildfire. It ended up creating this beautiful community of people that I feel connected to. I never expected that sense of community. The fans are true and they last and they really are what matters."
Now with both Leverage and Criminal Minds in the history books, "I'm sort of open," she said when asked what her next move might be. "I would love to direct. Acting is still very much my passion, but I would love to write my own material and direct it. I would love to do more films because the pacing is so different. You get to take more time and it's a shorter journey. I would love to get on a great running series again." TV viewers would undoubtedly welcome her back with open arms.
You can follow Beth Riesgraf on Twitter (@BethRiesgraf). If you missed any of her episodes of Criminal Minds, they're available on iTunes and Amazon Instant Video. Leverage continues to air on ION - check your local listings for time and specific channel.
For more from Brittany Frederick, visit my official website and follow me on Twitter (@tvbrittanyf).
(c)2013 Brittany Frederick. Appears at Starpulse with permission. All rights reserved. No reproduction permitted.