Beth Ostrosky Stern Had A Real 'True Beauty' Experience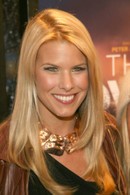 Howard Stern's wife, Beth Ostrosky Stern, is a judge on this season of True Beauty. While she teaches some pretty people how to be better people, she revealed her own shocking moment from her early days in modeling.
"I actually had a situation when I first moved to New York," Stern said. "I was at a casting for 5'10" blonde haired girls. Imagine that elevator filled with girls. Everyone's insecure but everyone's trying to keep their chin up. we're in the elevator and one of the 5'10" blondes behind me, the door opened, my casting sheet said my casting's on the fifth floor. Well, the fourth floor opened. Her casting sheet said fourth floor, so she goes, 'Go on' and she pushed me into the elevator door. I ended up having a bloody nose. So I couldn't go into the casting because I had a bloody nose. She went into the casting very proud of herself that she has one less girl to compete with."
Looking back, Stern can have a positive outlook on that experience. Now she's made it. "I hope she got the job because she worked hard," she reflected. "She hit me."
At the time, it was a cruel lesson about the reality of a competitive beauty business. "It was that moment I was really sad. I'm thinking here I am. We're all just trying to make it. Gosh, what a mean person to do that. Did she really have to be physical with me? We're all just here trying to make our way in New York. So that was my moment. It was literally the second casting I ever went on in New York City. I realized this isn't all happy beautiful 5'10" blonde people on the inside and the outside."
True Beauty airs Mondays at 10 on ABC.