Best/Worst 'American Idol' Chicago Auditions, Including 'Boob Boxing'

Last night the '
American Idol
' auditions went to Chicago, and continually reminded us that this was where
Obama
got his start. In fact, we were forced to watch a four-minute opening that compared the auditions to Obama becoming our first African-American President. Because they're very close in spectrum.
This question also answered the question, "Whatever happened to
Shania Twain
?" as the country superstar came out of her hiding place just long enough to lend her opinion on the best (and the worst) of the two days in Chicago.
Let's start with the best. . .
Three Best Auditions
3. Kaitlin
This was the girl who led off the night with a rendition of "Syrup and Honey" (a song Shania Twain had clearly never heard of based on her hungry reaction). Hers was a smoky jazz-type voice that also had a pop accessibility - kind of a one-woman fusion band in her vocal chords. Plus, she had an effervescent personality that should carry her in this competition.
2. Angela
This was the girl whose life seemed like an episode of "
One Tree Hill
" - everything that could possibly go wrong has seemed to happen to her. That wrong did not show through in her voice whatsoever as she delivered a hot version of "Just Fine" by
Mary J. Blige
with a lively voice and great attitude. She's made it to Hollywood twice before, after this audition she may finally stick.
1. Justin Ray
This was the first of the quick-hitters at the very end, who was so quick I didn't even figure out what he was singing (feel free to help out in the comments). Despite his dead poodle of a hair cut, he sang with a huge voice that gigantically smooth, especially when he brought it down at the end for some buttery-sweet soul. It's too bad we didn't get to see more of him.
Three Worst Auditions:
3. Amy
This was the second audition. She came in like a bundle of joy (well, annoying joy) and went on for awhile about here inappropriate dream about
Ryan Seacrest
- creepier than you could possibly imagine. Her big claim to fame was that she could move her boobs up and down and that was about all she could do. She started her audition by fainting (and it seemed seriously real for far too long) and then revived herself long enough to sing an
Aretha Franklin
song like a cat getting a rectal exam.
2. Curly
This was the guy who came in looking like Dom DeLuise at a Labor Day Party. He sang a woman's worth with a voice that sounded like somebody playing a clarinet with a broken reed. This just may have been the highest-pitched audition in the history of the world. The judges found it very funny, so much so that Curly didn't even wait to hear their verdict - he just walked out.
1. Brandon
This was the guy who claimed that he got kicked out of the army due to his constant singing. After three seconds of his audition it was easy to see why he might receive such a discharge.
He decided to sing "Tiptoe Through The Tulips" and actually had a significantly worse voice than Tiny Tim. He kind of sounded like he was sing-crying, or was doing an imitation of an overgrown baby having a temper tantrum in the middle of a target. This was complete with an oddly balletic prance around the audition area. The judges insisted this was a joke, but to be fair, Tiny Tim wouldn't have gotten past round one either.
Best of Simon
The truncation of Simon began egregiously last night as we mostly only got to see him say "yes" or "no", but we did get one gem during the aforementioned high-pitched Curly audition:
"Do you find when you sing at home a lot of animals turn up outside the house?"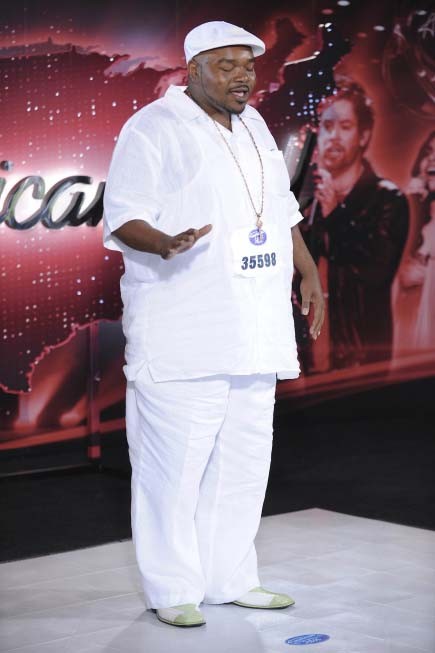 Image © FOX
Other Highlights
Shania Twain was the best guest judge yet. The few times we got to hear her speak, she actually gave insightful criticism rather than simply making fun of someone or telling them they were great. She helped both the winners and the losers.
The audition the judges liked that I didn't care for was Charity, who sang "Summertime". She may only be sixteen, but she really struggled with her upper register and sounded a bit squeeky most of the time. Despite this, she got four yeses and the judges just seemed to adore her.
I really like Keith (who sang "Heaven) and sounded like a slick cross between Bryan and
Ryan Adams
. Despite this, Simon said no and the other judges just barely put him in. I think he's a contender.
Finally, the best note I wrote to myself about an audition was regarding Alana, whom I said sang "I Will Always Love You" like a toothless opera singer trying to sing an aria from Hell.
Story by
Andrew Payne
Starpulse contributing writer