Best & Worst Of Ashton Kutcher

Ashton Kutcher
is one of those actors that the general public loves to hate yet secretly loves. He is a leading man with striking looks who has made numerous successful films; he has more than 1 million followers on Twitter; he is married to
Demi Moore
and he comes across as being a genuinely nice human being. Yet the phrase, "Want to see the new Ashton Kutcher movie with me?" tends to make people want to expunge their last meal.
As with any performer, not everything that Kutcher does is a gem of a move. The collective work of Kutcher isn't exactly Oscar worthy, but most of what he does is genuinely entertaining and enjoyable for the masses.
The Good
By far the two most successful works of Kutcher is his role as the dimwitted Kelso on
That 70's Show
and his modern day celebrity version of "Candid Camera,"
Punk'd
.
His role as Kelso put him on the map, and his work with "Punk'd" made him a prank legend. He was able to turn calm, polite, friendly and outgoing celebrities into broken down empty human beings who could barely speak. His having Punk'd
Justin Timberlake
was and always will be a classic!
Other works that fall into the "best of" category are his comedies. Kutcher played very well off of
Brittany Murphy
in
Just Married
. He was an excellent straight man foil for
Bernie Mac
in
Guess Who
. He did a great job as the bumbling buffoon who has one long night full of Murphy's Law in
My Boss's Daughter
, and who could forget
Dude, Where's My Car?
While it may have been a throw back to T & A 80's comedies, "Dude, Where's My Car?" still holds up as being a great movie to watch during a lazy day movie marathon.
The Bad
Works that fall into the "worst of" category are films with well past their prime former A-list stars:
The Guardian
with
Kevin Costner
,
What Happens in Vegas...
with
Cameron Diaz
and
Personal Effects
with
Michelle Pfeiffer
.
The Ugly
One piece of work stands out as being the absolute worst for Kutcher -
The Butterfly Effect
.
This film made us wonder what Kutcher and the rest of the cast were thinking when they accepted their roles and what the studio was thinking when they made it and subsequently released the movie. This is all because "The Butterfly Effect" was filled with situations that were flat out wrong, disgusting and disturbing involving young kids. It was the type of film that made you want to take 10 showers to wash off the disgust that it left on the viewer.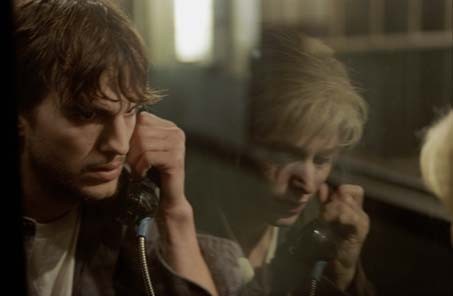 Image © 2003 Shane Harvey/New Line Productions
His new film,
Spread
, comes out Friday and it co-stars
Anne Heche
. "Spread" looks as though it has a great storyline involving a womanizer who duels a maneater in one-upsmanship, but the pairing of Kutcher with yet another past their prime co-star in the form of Anne Heche looks as though it just might spell doom for the film's success. For their sake, let's just hope that Heche makes the fourth time the charm for Kutcher.
Story by
Eric Stromsvold
Starpulse contributing writer