Best Wedding Films - What's Your Favorite?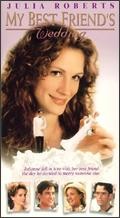 This weekend
Sandra Bullock
and
Ryan Reynolds
light up the screen with a brand new romantic comedy titled
The Proposal
. They are an unlikely duo who must pretend to get married to get Bullock's character a green card, but as anyone can expect, they start to fancy one another. It got Starpulse thinking about other movies centered around weddings that have captured the interest of movie goers before.
Here's a look at some excellent movies focused on weddings. Feel free to add your own suggestions in the comments!
Image © New Line Productions
Who can forget the story of the Other Woman, the one that tries to steal a man from his fiance before their epic perfect wedding. And we're supposed to root for her!
Julia Roberts
starred as Julianne, who realizes she desperately loves her best friend Michael (
Dermot Mulroney
), but now he's engaged to marry the sweet and perky Kim (
Cameron Diaz
)! What can she do but plot to manipulate the couple and ruin their happy day? Ignoring the sound advice of her friend George (
Rupert Everett
) - and even having him pose as her fiance at one point - Julianne rampages and plots until she finally realizes she has to let him go. It's surprising that this film was a comedy, and a successful one at that, considering the purpose of the main character, but it is mostly thanks to Roberts' big smile and star charisma. Plus Everett and the rest of the cast singing "I Say A Little Prayer For You" at lunch. No one will ever forget that classic movie moment!
There are actually two versions of this movie, but only the 1991 version got its own sequel and starred the comedic genius of
Steve Martin
. With weddings everyone focuses on the bride and groom, but what about the family? In this the spotlight is on the father of the bride, George (Martin), who has trouble letting his young daughter Annie (
Kimberly Williams
) go. It doesn't help she's only known the guy for three months and then they plan a lavish wedding costing 100k! Even with the calm reassurance of his wife (
Diane Keaton
), George goes a little crazy. This cute little comedy is less about the love between a man and a woman, but rather the love between a parent and a child. George - like so many fathers before him - has to let go of his image of the little girl he raised and let her live her own life. But did she really need the swans?
This adorable little film shocked the movie world when it broke the box office as a sleeper hit. It had no very well known actors, no big budget, and starred an unknown actress. Perhaps the success of this movie is in its simplicity: Greek girl Tula (
Nia Vardalos
) falls for non-Greek boy Ian (
John Corbett
), her family hates him, but in time he grows on them and they happily marry with the blessing of everyone. There are underlining themes of following your own path and finding inner beauty and confidence, but really it's a sweet love story with the sugar coating of a quirky family comedy on top of it. Honestly, it rocketing to the top of the box office shouldn't be that much of a surprise; like Meet the Parents and various other family-romance comedies, this one seems in hindsight like an easy slam dunk!