'Best Of The Little Guy' Sports Movies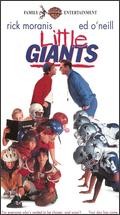 One week later, I'm still walking in circles around my house: pinching myself, reading newspaper articles, Tivoing ESPN, and gazing up at pictures of David Tyree. I just can't believe it. The New York Giants,
my
team, my sloppy, win ugly, stab me in the heart again and again until I'm either screaming or crying or laughing like a crazy person Giants have done the impossible-- they defeated the big, bad, *perfect* New England Patriots in the Super Bowl.
It's like something out of a movie. Inspirational. Against all odds. Team victory. In my mind, it's already the greatest sports movie that has yet to be filmed. They'll make it someday, forty years from now, and I'll take the grandchildren. And if they don't leave me in the car, I'll tell them all about how the real thing was even better than the movie.
And all this has gotten me to thinking, what is the best team movie of all time? We all know about
Bull Durham
,
The Longest Yard
and
Rudy
-- but I'm talking about that rag-tag, start-up average-Joes movie. Whose the best of the little guys?
In some ways, this list isn't "the greatest" sports movies of all time, but "the most fun," because those are my Giants-- not the greatest; but man, they sure were a hell of a good time!
10. Cool Runnings
- The true story of the founding of the Jamaican Bobsled team and their quest for Olympic glory. The late
John Candy
can be found here at his best, and the ride is as enjoyable as watching people train for an ice luge by laying down on a skateboard and going down a dusty hill. At the end, when the people of Jamaica are gathered around to watch history, it's hard not to be moved.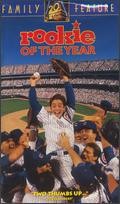 9. Rookie of the Year
- When I was eight, I wanted to be this kid so bad. Basically,
Thomas Ian Nicholas
(who later goes on to star in
American Pie
) breaks his arm, and when it heals funky he's given the ability to throw a fastball over a hundred miles and hour. The Chicago Cubs promptly sign him, which is probably illegal, and he leads them all the way to the world series. Still not convinced?
GARY BUSEY
plays the grizzled baseball veteran. You're never quite sure if he's going to strike somebody out or bite them.
8. Dodgeball - A True Underdog Story
-
Vince Vaughn
and
Ben Stiller
satire everything we love about the rest of the movies on this list. The cameos alone make this movie worth while, and it has possibly the greatest final line of any movie-- "F--king Chuck Norris."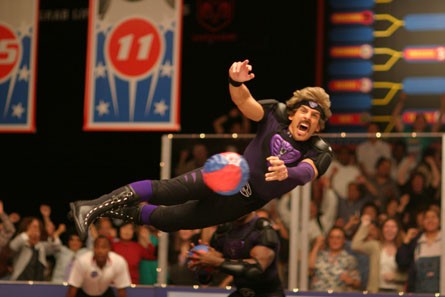 7. Angels in the Outfield
- From around the same era as "Rookie of the Year," Angels in the outfield tells you that if you don't love this movie, you're probably a heartless bastard.
Joseph Gordon-Levitt (
3rd Rock From the Sun
) asks God to help the Los Angeles Angles win the pennant, because then his father will stop being a deadbeat and take care of him. God sends down
Christopher Lloyd
, and the real Angels start helping the team win games (I always felt that this was a little irresponsible of God, because some people had good money riding on those games). If the heartwarming plot doesn't get you going, maybe you can get behind the cast. The baseball team, led by
Danny Glover
(who's perpetually getting too old for everything) has some hidden gems: including
Tony Danza
,
Matthew McConaughey
and
Adrien Brody
.
6. The Mighty Ducks
- Emelioooo! Ducks fly together. The flying V. Quack, quack, quack. This movie gave birth to an actual NHL team-- you have to love that. I include here
D2
, where the ducks are facing evil greasy haired Icelandics in the international youth hockey league. I especially love the amount of passion and care that goes into a game that would post-air on a Wednesday afternoon on local access television to be viewed mostly by the player's moms.

5. Miracle
- This is an all time team victory story that chronicles the underdog American national hockey team (scraped together by college players) defeating the Soviet Union at the 1980 Olympics in what has since been dubbed "The Miracle on Ice." Not only was this inspirational, but because of the political undertones it holds real historical value as well.

4. Remember the Titans
-
Denzel Washington
takes on not just football, but racism, which is a lot to pack into four quarters. Like
Miracle
,
Remember the Titans
holds some "inspired by a true story" historic value, but manages to keep an air of fun in the way the players carry themselves. It says something that the integrated Titans win over a segregated town with dancing as much as with winning; the players have fun-- and so do you. In the mean time, the heaviness of the situation begins to play with your emotions and leaves you open to believe in anything, and that is the true value of an underdog story.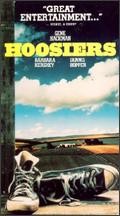 3. Hoosiers
- This basketball classic takes "
Bad News Bears
" to an entirely different level. You don't have to be from Indiana to worship it, but it helps! And you don't have to love basketball to love the rags to riches story of a team led by a town drunk and
Gene Hackman
.
2. The Sandlot
- Ok, so this isn't a team/underdog story, but it is one of the most fun sports movies of all time. The Sandlot reminds every "inner boy" (or tomboy) of that time in their life when the only thing that mattered was the summer sun, a bat and ball, and dirty living, just like the pros do. The characters aren't just endearing, they're little pieces of our past; and the
James Earl Jones
narrated ending helps establish the Sandlot as the poor man's
Field of Dreams
.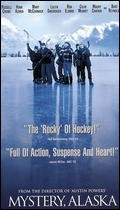 1. Mystery Alaska
- I wanted to get a movie in here that most people aren't familiar with. Like I said,
Bull Durham
,
Slap Shot
,
Field of Dreams
, etc. are in
A League of their Own
; but if you're looking for underdog upstart guts, then this is your flick.
Russell Crowe
leads the way alongside
Hank Azaria
and
Burt Reynolds
to showcase a small town hockey team that rises up and challenges the New York Rangers on an outdoor ice rink in-- you guessed it-- Mystery, Alaska. It's a story that would get lots of publicity and attention, which is part of what makes it so much fun. It's hard not to get excited and cheer for the 'little guys,' even if you're a die-hard Rangers fan. The film came and went quickly and is now about as obscure at this point as the small town it celebrates, but that's just the way it should be. Check this one out if you haven't already!
Honorable Mention:
Little Giants
- Okay, so maybe this is a shameless entry;, but give me a break, the Giants won the Super Bowl! Forget
Eli
vs.
Peyton
-- Danny O'Shea (
Rick Moranis
) out-coaches older brother Kevin (
Ed O'Neill
), a former Heisman Trophy winner, to give the ultimate team of misfits the greatest moment of their young lives.
Little Giants
is proof that nerds, girls, and fat kids can all be champions (so long as they find themselves a handsome franchise quarterback). Nobody here is saying this is the greatest sports movie of all time, but "Little Giants" seems to sum up the spirit of the real G-Men and all of these 'little guys' who rise up and conquer-- underdogs can win championships.
Story by
James Fagan
Starpulse.com contributing writer