Best of 2012 - Jason Coleman's Top Ten DVD/Blu-ray's

Ready for another look back at the best of 2012?  Well then, let's take a short walk down memory lane and examine all things home entertainment this time around.  Yup, it's a chance to check out most memorable flicks, complete sets and all their delightful extras within – from re-releases of the greats to newbies with distinctive movie and packaging design flair it's all here.  (And hats off to Shout! Factory for having a whopping four titles on this list!)   Let's press play and browse over my..."Best of 2012 Top Ten DVD/Blu-ray's!"
1. "They Live" (Shout! Factory)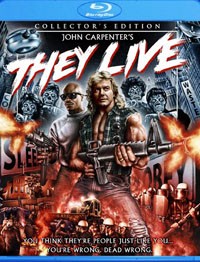 Never has an old guy looked so good.  John Carpenter's action ridden and highly subversive 1988 flick "They Live" gets new inner and outer life courtesy of the new Shout! Factory horror division Scream Factory.  With a lush looking final Blu-ray product mixed with a savory cover courtesy of the master Tom "The Dude Designs" Hodge, "They Live" finally gets the respect it deserves.  Plus the fact that there are no shortage of extras – candid commentaries, full featurettes and incisive interviews with everyone – makes this the coolest collectable of 2012.