Best Of 2011 - The Kid Flick Pick - 'Toy Story Complete 3D Collection'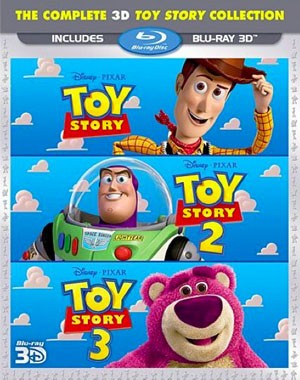 The kid has spoken.  I put up my Top Ten Blu-ray list already, but with no kid flick included, I felt it important to have the tots represented.  So I went right to the source (my 10-year-old son Will Graham - named after a movie character of course!) and he gave up his pick for this year's kid flick...
"THE COMPLETE 3D BLU-RAY TOY STORY COLLECTION!"

Funny thing is it's actually one of my favorites too!  So check out the highlights, the beauty of Buzz, and wonderment of Woody below!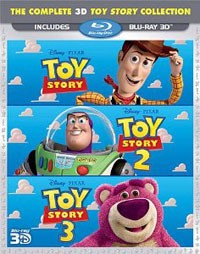 Title: "The Complete 3D Blu-ray Toy Story Collection"
   Grade: 5
   Cast: Tom Hanks, Tim Allen, Wallace Shawn
   Director: John Lasseter/ Lee Unkrich
   Rating: G
   Runtime: 119 minutes
   Release Company: Walt Disney Home Entertainment
   Website: www.DisneyBluray3D.com.com
The Flick: "Toy Story" is the only series of films that has not gone down in quality.  Right from the exciting first film through to the sad and sweet third outing, "Toy Story" isn't Pixar's bread and butter for nothing.  And one thing helmsman John Lasseter does have is an ear for a great voice and the films are more memorable because of it.  Tom Hanks as the weary Woody and Tim Allen as the cocky Buzz Lightyear make a wonderful leading team – not to mention a little Don Rickles Mr. Potato Head and John Ratzenberger Hamm action to boot!  The kid's favorite is the more meaningful part three, but for me it's the first that always brings the smile.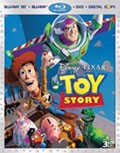 The 3D: Is this one worth the bread?  To 3D infinity and Blu-ray beyond!  Not only are the films tasty in an eye-popping 3D format, but also the clarity and resolution brings the Pixar animation to a whole other level. If you've been waiting to see what the 3D fuss was all about, start here!
Best Feature:  For the kid and me we agreed on the awesome extra that is Buzz Lightyear Mission Logs.  There's a different one on each flick disc, on the original it's 'Blast Off,' part two brings 'International Space Station' and part three has 'The Science of Adventure.'  (Not that the cavalcade of other extras aren't tasty as well!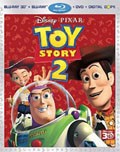 Best Hidden Gem: On "Toy Story" for me it's the great Wallace 'My Dinner With Andre' Shawn as the tame Rex, but for the kid it's the 'Buzz Takes Manhattan' extra.  Part two we both agree that the vixen-voiced Joan 'School of Rock' Cusack steals the show and again in agreement for part three for the 'Toy Story Trivia Dash Interactive Game.'  (I win every time...well almost every time!)  
Worth the Moola: At a hefty price, collections can be tricky.  But this one has movie and extras gold with each disc and thus makes it the...'Kid Flick Pick for 2011'.