Best And Worst Of Nicole Kidman

Tall, elegant
Nicole Mary Kidman
burst into Hollywood after hooking a role in a big movie - "
Days of Thunder
" - and also winning over its lead star
Tom Cruise
, who was America's Sweetheart at the time. Since then, Kidman has become much more than the ex-Mrs. Cruise, she is a beloved actress, mother, wife (to
Keith Urban
), and yes even Oscar winner! Beautiful, independent and dedicated to charity, Kidman is the very picture of a lady. This Aussie will star opposite fellow countryman
Hugh Jackman
in the upcoming film "
Australia
," in theaters November 25th. Let's take a look at some of her best roles, and some of the ones she should have thought twice about.
The Best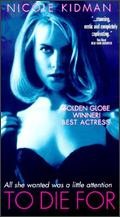 In the 1995 film "
To Die For
," Kidman had her first real breakthrough role as seductive, manipulative Suzanne Stone-Maretto. Suzanne has high ambitions for herself and plans to get to the top, so she marries mafia-connected Larry Maretto (
Matt Dillon
). Once he does not work into her plan, however, Suzanne makes a high school student Jimmy (
Joaquin Phoenix
) fall in love with her and convinces him to kill her husband. Jimmy goes to jail, and Suzanne gets the attention and fame she always longed for when the murder becomes big news. She gets what she deserves in the end, and Kidman won over the respect of critics and colleagues alike with her performance in this film. She is vicious, vivacious, magnetic, and played the role to perfection. This was probably her first great movie, and she became a real Hollywood star; for her talent, and not her marriage.
Kidman was a woman of many talents, but not many knew that acting wasn't her only artistic ability. She could also sing! In "
Moulin Rouge
" (2001) she sang her heart out and audiences everyone grew attached to the beautiful, tragic Satine. A courtesan of the highest degree, Satine dreamed of becoming a real actress and leaving the Moulin Rouge. She meets Christian (
Ewan McGregor
) when she mistakes him for the Duke (
Richard Roxburgh
), and the two fall in love. The Duke pays for a theater production they plan to put on, with Satine as the star, but jealousy and a simple cough change the lovers forever.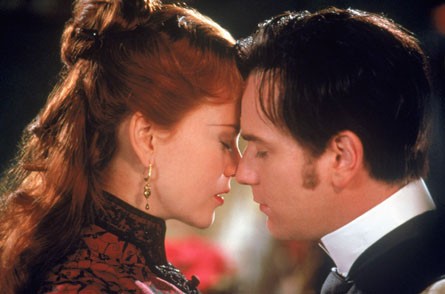 This wonderful and insane musical was nominated for Best Picture that year, and Kidman herself was nominated as Best Actress. Behind that gorgeous red hair and sexy smile was a sweet fragile woman in love, and Kidman played the world weary Satine with a touch of sugar.
Kidman finally snagged a coveted Oscar for Best Actress thanks to a 2002 film named "
The Hours
." It was based off a best selling novel of the same title written by Michael Cunningham; he won a Pulitzer Prize for it. The story is about three women who are all connected by Virginia Woolf's book "Mrs Dalloway," but they are each in completely separate times. Kidman played Woolf herself as a brilliant but troubled writer who took her own life.
Meryl Streep
and
Julianne Moore
also starred, and while these are both formidable female actors in their own right, it was Kidman who shone. Woolf was tempestuous, sharp tongued, and constantly seemed to be somewhere between maniacally passionate or deeply depressed. It takes a great deal of personal charisma to stand out amongst a group of real stars, but Kidman does it with ease.
The Bad
Right around the same time as "To Die For" hit the silver screen, Kidman starred in "
Batman Forever
" as Dr. Chase Meridian. This was the first Batman film after
Tim Burton
left the series with a whole new leading man,
Val Kilmer
. It also starred big names like
Tommy Lee Jones
,
Jim Carrey
, and
Chris O'Donnell
, so where exactly did it go wrong? Perhaps it was a little too much like the silly old TV show rather than the gothic and bizarre Burton world everyone was used to. Dr. Meridian was a psychologist who was creepily in love with Batman while dating alter ego Bruce Wayne at the same time. She fulfills the role as damsel in distress which simply did not suit Kidman's strong personality. This movie was probably chosen for commercial purposes, to get her name out there, but she would have been better served to do more films like "To Die For" and relying on talent.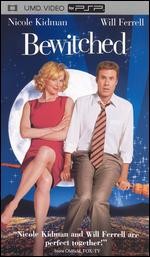 Why. Why why why, Nicole? In 2005 she starred in the film version of "
Bewitched Movie
," which might have done better had it been a remake of the classic television series rather than going in its own direction. Kidman plays Isabel Bigelow, a real witch who gets casted in a modern adaptation of the TV show. She is chosen by Jack Wyatt (
Will Ferrell
), an egotistical movie star who wants an unknown in the role so he can outshine her. The two fall in love (seriously) after he tries to destroy her career a few times, and then she tells him the truth about her identity. Ha ha, see, it is a movie inside a television show about another television show. No one really saw the joke, and while it did not do terribly in the box office, this fact was probably due more to the stars in its cast than the movie being good.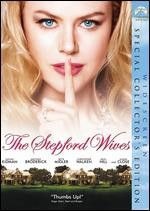 One of Kidman's few commercial flops was the 2004 film "
The Stepford Wives
," which was a remake of a 1975 movie of the same name. The original movie and book were hailed as a critical success, a black comedy with commentary on the growing changes in feminine power, but this one just tanked. Kidman plays Joanna, a high powered television exec who moves to a suburban paradise named Stepford with her husband Walter (
Matthew Broderick
) and two children. Joanna is confused by the apparently blissful and perfect women that surround her in the perfect little town, and she finds out after her only friends are 'turned' that the men decide to 'fix' their wives to their liking. The actors, director, and basically everyone involved with the movie regretted ever making it. They said so publicly, Kidman included. Maybe next time you'll think twice, Nicole.
Story by
Chelsea 'Dee' Doyle
Starpulse contributing writer