Best And Worst Cameron Diaz Films

Cameron Diaz
is one of the highest paid actresses in Hollywood but sometimes even her bubbly personality and breathtaking smile fail to entertain movie-goers. Although there have been critics that say she plays the same character in every movie, we love Cameron here at Starpulse. Her newest thriller,
The Box
, which opened Friday, November 6th, sparked our list of best and worst Cameron Diaz movies.
Worst
The Holiday
- In the chick flick category this was one of our favorites, but in the acting category some skeptics say Cameron was not their favorite part. She played Amanda, a girl from Los Angeles who finds out her boyfriend cheated on her and escapes to a rented house in Surrey, England for the holidays. Cameron's character is a little pathetic and there are some times in the film where you want to reach through the screen and knock some sense into her, but then Jude Law comes on and we forget why we were mad.
What Happens in Vegas
- This comedy co-starring
Ashton Kutcher
(Jack) was funny but a bit far-fetched for our liking. Cameron's character, Joy, could have been any of the previous characters she has portrayed before and the film was way too predictable. After a night of partying in Las Vegas, Jack and Joy wake up and discover that the former strangers are now husband and wife. Though there were some funny parts as the two try to untangle the mess, it fails to make it onto our 'best' list.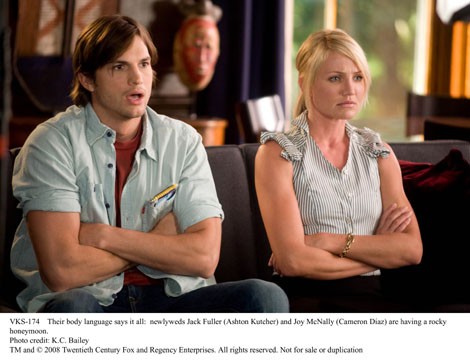 Image © Twentieth Century Fox Film Corporation
In Her Shoes
- Maggie and Rose are two polar opposite sisters, who end up living together after Maggie (played by Cameron) screws up various jobs and gets kicked out of their father's house. Rose catches Maggie in bed with a guy she was dating and throws her out forcing her down to Miami at their estranged grandmother's house. The movie was sappy and had a cute ending but we found ourselves wanting to reach through that screen again…
Charlie's Angels
- Yes, Cameron was hot in this movie- based on the popular 1970's television show, but we weren't that impressed with her character. Cameron played Natalie, one of three Charlie's angels who were sent out on crime-fighting missions, showing off their martial arts and undercover agent skills. She may have rocked the screen with her dance sequences, but that was the best thing we can remember.
Feeling Minnesota
- This movie has Keanu Reeves in it, need we say more? Cameron plays a stripper who is marrying someone to pay off a debt but ends up falling in love with his brother. There is way too much going on in the plot but not enough to keep us interested.
The Sweetest Thing
- Although the "Penis Song" is worth renting the movie, Cameron's acting ability is lacking substance. The movie starring Christina Applegate and Selma Blair is funny and entertaining but we had to check the DVD cover a few times to make sure we weren't watching Charlie's Angels or There's Something About Mary instead.
Best
There's Something About Mary
- This is probably one of Cameron's best comedic movies and essentially a classic. Although the movie was made a decade ago, people are still quoting lines, "Has anyone seen my baseball?" or they reference characters like Magda to this day.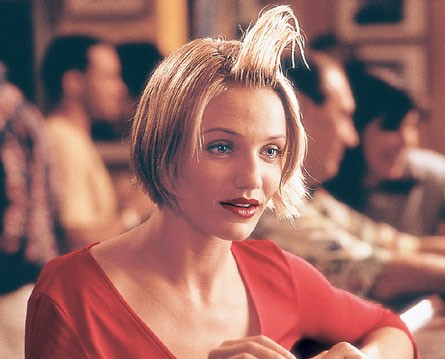 Image © Twentieth Century Fox
The Mask
- Cameron's first movie, breaking out of the modeling world, Cameron lit up the screen and instantly became a star. Although the plot was cheesy and she didn't do any intense acting, it was overall entertaining, and basically put her on the acting map, which certainly deserves a spot on her 'best' list.
Shrek
- We can't imagine any other actor voice Princess Fiona - Cameron nailed it. The Shrek movies are genius and took the movie world by storm. The film was the first in it's category to win an Academy Award for Best Animated Feature at the 2002 Academy Awards.
Vanilla Sky
- This Cameron Crowe masterpiece starring such talents as
Tom Cruise
and
Penelope Cruz
was one of Cameron's best films and really proved she can act. Usually the more upbeat, bubbly character on film, she took this role to the dark side, playing Tom Cruise's suicidal love interest.
Gangs of New York
- Once again showing off her dramatic acting ability, Cameron plays Jenny Everdeane, a pick-pocketing swindler. Just to have the chance to act in a
Martin Scorsese
film is an honor, let alone one that was nominated for an Academy Award.
Being John Malkovich
- This film is a philosophical work of art that quickly became a cult classic. Cameron plays Lotte whose husband discovers he can control
John Malkovich
by getting into his head, literally through a portal. Some viewers might not even know who she is in this film due to her frizzy brown hair and lack of make-up.
My Best Friend's Wedding
- Cameron's character, Kimberly is adorable and wins us over with her karaoke rendition of "I Don't Know What to Do with Myself." Still fairly new to Hollywood with only a few movies under her belt, this film predicted Cameron's A-list status. She easily steals many of her scenes from the movie's headliner
Julia Roberts
.
Story by
Erin Demchak
Starpulse contributing writer