Bernadette Peters Desperate For 'Glee' Role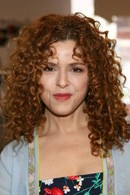 Veteran Broadway star Bernadette Peters is baffled she hasn't appeared in TV hit Glee, as producers once offered her a role on the show.

The actress is a big fan of the musical comedy, and she was delighted when she was heard she would be offered a part.

Peters, who stars in TV stage drama Smash, was further thrilled when she was name-checked on the show, but she is still waiting for producers to come up with a character for her.

She says, "It's funny because when they first started, they said they were going to ask me. And they've mentioned my name in the show! But I guess they still haven't figured out who or what I would be."

"Well, actually, there is an idea floating around involving Lea Michele. Maybe she could stalk me. I think when Rachel was searching for her mother she may have mentioned me. But her mother wound up being perfect! They even look alike."