Benzos' Second Album, Branches, In Stores August 7

New York-based quartet
Benzos
are releasing their second album,
Branches
, August 7th on Stinky Records.
Branches
combines the melodic allure of
Doves
, the sprawling dynamics of
Explosions In the Sky
and the minimalist yet intense complexity of
Aphex Twin
, to develop a unique blend of ambient, emotionally resonant guitar and synth instrumentation, "mashed up" with tight, bottom-heavy, intensely funky rhythm section grooves.
Since the release of their debut album,
Morning Stanzas
, Benzos -- Christian Celaya (guitar/synth/vocals), Brian Joyce (guitar/vocals), Eiko Peck (bass)and Steve Bryant (drums/sampling) -- have built a passionate live following for their heavily improvisational live shows, sharing stages with acts such as
She Wants Revenge
,
Lake Trout
, the
Benevento-Russo Duo
and Phoenix. Co-produced by Woody Ranere of Lake Trout, the new album animates the band's transcendent melodies and complex rhythms with the dynamism and freshness characteristic of their extraordinary live shows.
From the drum n' bass overtones of "Hurt Everybody" to the infectious melodies of "Phase 2" to the dynamic vehemence of "Crooked Hands,"
Branches
engrosses you with transcendent emotions and complex, highly danceable rhythms that leave you wanting more.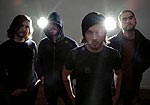 Here's what they're saying about Benzos...
"
Radiohead are still the undisputed leaders on rock quintets that weave anthemic guitar rock with chilly, electronic programming, but New York's Benzos, one of the most innovative bands coming out of The Big Apple today, could eventually grab the baton.....
" – Urb Magazine
"
With a dramatic swell that hints at Jeff Buckley fronting a visceral emo/jazz outfit, Benzos creates a fascinating synthesis of urban electronic cool and suburban indie heat
." – Amplifier Magazine
"
Benzos shimmer sweet drum-split and shoegazer misery
" – The Village Voice
Upcoming Benzos shows:
Aug 9 - Knitting Factory - New York, NY (w/
Say Hi To Your Mom
)
Aug 17 - Camp Bisco 6 - Mariaville, NY (Other bands:
Disco Biscuits
,
STS9
, Girl Talk, and more)
Listen to "Hurt Everybody"
(Streaming audio and/or video links may expire without notice)