Benicio Del Toro To Be Next 'Star Trek' Bad Guy?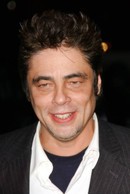 Director J.J. Abrams has handpicked Benicio Del Toro to be the villain in his upcoming Star Trek sequel, according to a new report.

The filmmaker has met with the star about the as-yet-untitled-project, but refused to provide exact details about the role in an effort to keep the script a secret, reports Variety.com.

Chris Pine, Zoe Saldana, Simon Pegg and Zachary Quinto are all expected to reprise their roles when productions begins in early 2012.