Benedict Cumberbatch Is Single Again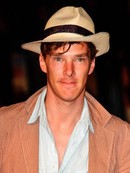 British actor Benedict Cumberbatch is single again after splitting from his fashion designer girlfriend.

The War Horse star ended a 10-year relationship with his longterm partner, actress Olivia Poulet, last March and he later moved on with Anna Jones.

However, Cumberbatch's sister Tracy Peacock has revealed he's ended his latest romance, and she insists her brother is just unlucky in love.

She tells Britain's The Sun, "You would have to be a pretty smart cookie to keep up with him. I think that is possibly why he has trouble with girlfriends... One of his regrets is that he hasn't found someone to settle down with. I think they would have to be someone not in the acting profession. Someone who was happy to hold down the fort (sic) while he went off and pursued his career."