Ben Stiller Auctioning Off Walk-On Movie Role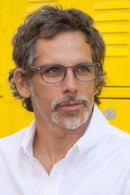 Ben Stiller is auctioning a walk-on role in his upcoming comedy Neighborhood Watch to raise money for charity.

The winning bidder will be invited to the Atlanta, Georgia set in December to shoot a scene alongside Stiller and his cast mates Vince Vaughn and Jonah Hill.

The CharityBuzz auction is expected to pull in as much as $20,000 when it ends on Tuesday and all proceeds will benefit the Stiller Foundation, which helps provide education for underprivileged children around the world.