Ben Kingsley In Talks To Play 'Iron Man' Villain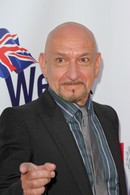 Oscar-winning Gandhi star Ben Kingsley is in talks to play the villain in the next Iron Man sequel, according to Hollywood trade reports.

The Hugo actor will follow Mickey Rourke as superhero Tony Stark's nemesis in Iron Man 3, if Variety rumors are true.

No details about his role or the film have been released, but Shane Black has replaced Jon Favreau as the director of the third film, which will hit cinemas next year.

Robert Downey, Jr. will return as Stark/Iron Man.