Ben & Jerry's Ice Cream Introduces Limited Batch Of Ron Burgundy's Scotchy Scotch Scotch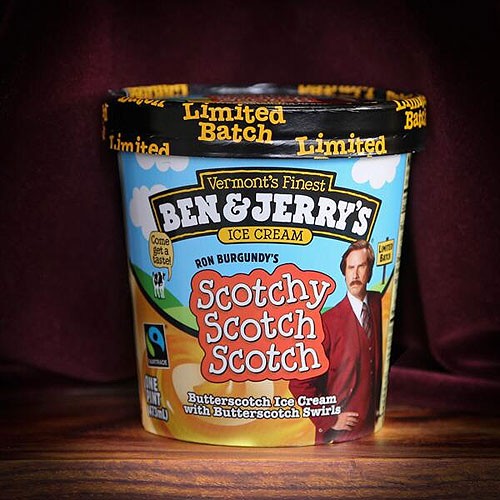 Great Odin's raven! Ben & Jerry's Ice Cream has paid tribute to fictional San Diego newscaster Ron Burgundy with his own flavor: Scotchy Scotch Scotch.

The new flavor is just in time for the release of two new trailers that were released this week for Anchorman 2: The Legend Continues, which arrives in theaters December 20.

"Scotchy, Scotch, Scotch is a delicious ice cream and I hope Ben and Jerry consider my other suggestions: Malt liquor marshmallow, well liquor bourbon peanut butter, and cheap white wine sherbet." Burgundy (Will Ferrell) said via press release.

The new flavor has no liquor in it at all, the title referring to the double-dose of butterscotch in the recipe: butterscotch ice cream wiht a butterscotch swirl. The recipe took months to perfect, but alas, it's just a limited batch.

Ben & Jerry's debuted the new flavor at New York City's Pier 36 on Wednesday with one of their scoop trucks converted into a Channel 4 News truck and several Ron Burgundy look-alikes.

The flavor is available at Ben & Jerrys Scoop Shops and is set to hit stores soon.

"Scotchy Scotch Scotch" is the latest flavor with ties to Saturday Night Live (Ferrell) -- Ben & Jerry's recently released a Greek frozen yogurt based on "30 Rock" character Liz Lemon (Tina Fey), and last fall a limited batch of Schweddy Balls, based on the classic Alec Baldwin skit, was released.

The latter, however, was very difficult to find as many stores opted not to carry it because of its irreverent name.