Ben Folds Confirms Ben Folds Five Reunion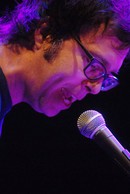 Singer-songwriter Ben Folds has thrilled fans by confirming the reunion of his cult group Ben Folds Five.

The band's frontman took to his Twitter.com page to share the news and post a photo of himself, Robert Sledge and Darren Jessee back in the studio together.

He tweeted, "It's happening fo sho (for sure) - Day 1 in studio with Robert and Darren. New Ben Folds Five record."

The album, set for a spring release, will be the trio's first since The Unauthorized Biography of Reinhold Messner in 1999.

The group split the following year and Folds went on to pursue a solo career.