Ben Flajnik Tells All About The Crazy New Season Of 'The Bachelor'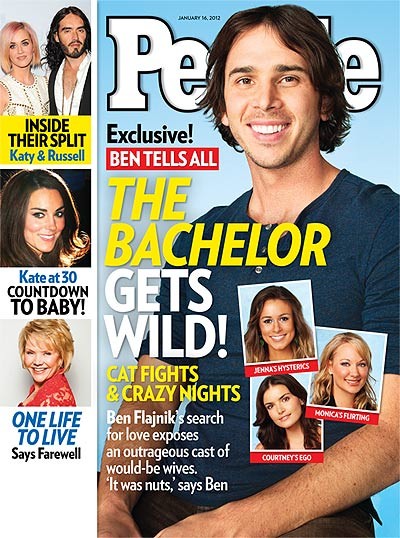 As 25 women battle for his heart, the newest Bachelor, Ben Flajnik, shares secrets exclusively in this week's issue of PEOPLE about the show's wildest season yet. When Flajnik showed up to shoot the ABC reality show's Jan. 2 premiere, ladylike comportment went right out the villa's vast windows for his suitors, where it was all about big stunts and survival of the fittest. "These women looked at him like a prize," says host Chris Harrison. "Like this celebrity." One of the contestants arrived on horseback another sent her 72-year-old grandmother hobbling over on crutches to profess her love, while a third quickly began flirting up a storm – with a fellow bachelorette.

For Flajnik, a soft-spoken 29-year-old winemaker from San Francisco, it was less Champagne and starlight, more man-hungry stampede. "It's not this glamorous thing everybody sees on TV," he says of the 12-hour getting-to-know-you marathon that lasted from sundown to sunrise. "I think I might've had one drink." Still, he insists that he never had the unchivalrous urge to flee. "I really think you're given this opportunity to try to fall in love, and you might as well take it seriously."

Now in its 16th season, The Bachelor has slowly morphed from gooey reality TV dating show to loopy nighttime soap opera brimming with cat fights, breakdowns and an ongoing cast of characters that includes Ben – whose tenure on last season's Bachelorette ended in a so-humiliating-you-still-wince rejection. Still, the earnest, easy-going Californian insists he's really, truly looking for lasting love. Says Ben: "I'm glad I put myself out there." In more ways than one. "It's a very nude season," says Harrison. "Ben is very comfortable in his own skin. He doesn't have modesty issues." So, any second thoughts about that skinny-dipping scene teased in promos this season? "I'm not worried about showing my butt on national television," Ben says with a smile. "It's just a butt. A beautiful woman asks you to go skinny-dipping in Puerto Rico and you kindly oblige."

To be sure, the former Bachelorette contender enjoyed being on the other side of the rose ceremonies, particularly after having his heart publicly broken by last season's Bachelorette Ashley Hebert, 27. "You're vulnerable and disappointed," Ben says of the windswept moment last summer when he dropped to one knee to propose, only to have her reveal she'd fallen for rival suitor J.P. Rosenbaum. "I can kind of laugh about it now. But it's hard to watch."

Seeing himself on The Bachelor – to which he signed on three months after Ashley's rejection – has been far easier, even though he's been surprised by many of the women's antics, which he had been largely unaware of during filming. The season's over-the-top kickoff – which included a blindfolded candy tasting and a contestant's rap about communicable diseases – was just a preview of the theatrics to come.

"Obviously with a situation like this, the claws are going to come out – and they came out a lot earlier than I would've expected," he says of the drama that saw one contestant, mood-swinging blogger Jenna, dissolve into hysterical sobs soon after arriving. Then there was the instant attraction between hopefuls Monica and Blakeley, who spent much of the first night canoodling on a couch. "The girl-on-girl action? I had no idea that was going on!" says Ben. "It was a complete shock." As for some of the other women, "they seemed like they just swallowed a Ben pill, like, 'I really want to marry this guy!'" he says. "And they don't know anything about me." Host Chris Harrison adds, "Are these women really here for him, or are they just being competitive? That's one of the key questions."


*Also In This Week's 'People'*

Baby Buzz Builds As Kate Turns 30: "The Likelihood Of A Royal Baby Is Very High"
Katy Perry & Russell Brand's Split: "It Bugged Her When He'd Say Anti-Jesus Things"
One Life To Live Signs Off After 43 Years
Kelly Clarkson: "At Pop Events, Everbody's Too Cool For School"