Ben Affleck's 'The Town' Inspired Real-Life Burglars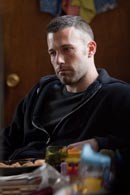 The alleged leaders of a New York burglary ring have told cops they used tips from Ben Affleck's movie The Town to rob a series of convenience stores and delis.

Police claim the suspects, who were arrested over the weekend, have revealed they poured bleach on cash drawers in an effort to destroy DNA evidence - after watching Affleck and Jeremy Renner in the hit 2010 film.

The accused are suspected of robbing a series of shops and stores in Brooklyn and Queens.