Ben Affleck Is Accused Of Killing His Wife In 'Gone Girl' Trailer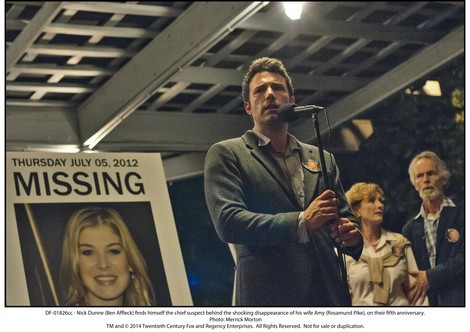 The first trailer for the movie adaptation of Pulitzer-winning thriller Gone Girl is here.
The film follows a man played by Ben Affleck struggling in the wake of his wife's disappearance as the media circus descends around him and begins to question whether he was behind it.
Set to a haunting soundtrack created by Trent Reznor and Atticus Ross (who worked with director David Fincher on Girl With The Dragon Tattoo and The Social Network), Affleck's Nick Dunne looks both guilty and innocent as he eyes the crime scene and flashes of a violent past are shown.
Nick then speaks out during the search for his wife, sits down with various media outlets, and begins to live a life undercover as reporters and cameramen prowl across his front yard.
Rosamund Pike (Wrath of the Titans, Jack Reacher) plays the missing Amy in flashbacks and a vision of her slowly drifting down underwater.
"I did not kill my wife. I am not a murderer," Affleck intones over the end of the trailer. Do you believe him?