Bell's Palsy Forced George Clooney To Develop Personality, Sense Of Humor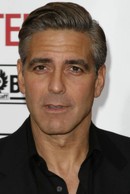 George Clooney developed his famous sense of humor as a teen dealing with facial paralysis.

The Ides of March star suffered Bell's palsy when he was 14 and it left him with a temporary face droop, which prompted name calling at school.

Clooney dealt with the torment by finding a way to laugh about his features.

He tells Rolling Stone magazine, "You have to remember that in the microcosm on Cincinnati, Ohio, through northern Kentucky, my father (news anchor Nick Clooney) was a big star, still is. So that made my sister and me really visible. Everybody knew us, talked about us... It was very awkward being watched like that, everybody looking at us, and then all of a sudden your face goes flat?

"My dad would always say, 'It's going to go away, you'll be fine, you can handle it.' But it was a tricky thing. So, you develop a better personality and learn how to make jokes about it."