'Bellflower' Week - Interview Jessie Wiseman - The Girlfriend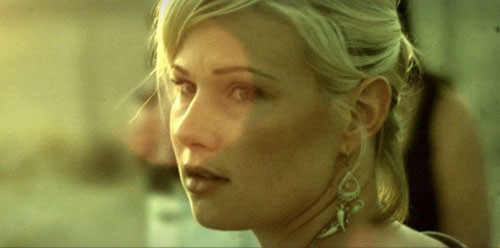 If a handmade flamethrower represents the emotional madness felt by the betrayed leading man in "Bellflower," then actress Jessie Wiseman's complex character Milly is definitely the savage spark that ignites the torch.  As the beautiful yet troubled woman who entrances and then enrages Writer/Director Even Glodell's unsuspecting character Woodrow, Wiseman is nothing short of a wonder to watch.  In a role that forces Wiseman to physically and emotionally go to bold extremes, the up and coming actress takes to the challenge like a duck to water.  (And this water is far from clean folks!)  With our 'Bellflower Week' still going strong, Starpulse got a chance to sit down with the talented Wiseman, an actress to truly watch for, to chat one-on-one about her reactions first reading the script for Bellflower, her take on the daunting task of bringing the fervent character of Milly to life and her thoughts on everything from love and forgiveness to cricket eating.  Welcome magnetic... 
ACTRESS JESSIE WISEMAN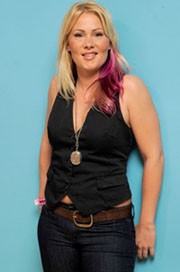 What was your initial reaction when you read the script for "Bellflower?"
Jessie Wiseman: I loved it and I could sort of relate to it, but I loved the extremes of it.  The extreme love and then extreme violence - they just went together.  And I loved the character because she's just real, she's messed up, fun but confused, made mistakes, but she's honest.     
Playing Milly had you laying both soul and body barren – how difficult a task was it?
JW: It was difficult, but it was fun – that's why I wanted to do the character.  My favorite scene is the kitchen scene.  I mean that's why I do this - the emotions and the craziness. Going to those places is why I do this and it was amazing in that way.  Also there were a lot of challenges as far as contending with machines and the car and the cameras breaking and stuff like that, which as an actor you have to take a breath and figure it out.  But once you're rolling and once you're actually in the scene that's the shit right there.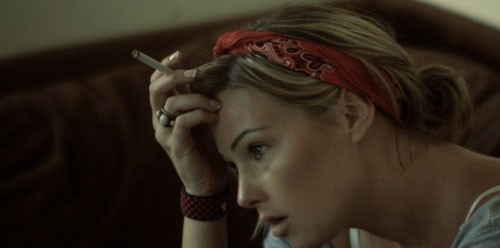 You said once in describing the film love makes you do crazy things – but ultimately can these things be forgiven?
JW: Yeah.  The main thing is letting go of that or realizing that people are people and mistakes are mistakes and life is life and you need all of it.  You got an extreme love, you're gonna get this extreme heartbreak and you can eventually, hopefully, move on from it.
Even though it's never specified in the film, what did you feel was the nature of the relationship between Milly and her roommate Mike?
JW: In my mind I think they were roommates and they probably hooked up before.  Mike is in love with her, pays her rent, does all these things for her, but she just ends up using him.  She's taking advantage of that fact, which is f*cked up, but people do it all the time.
Was the biggest shooting hurtle for you eating those live crickets – what was that like?
JW: I had to take two big handfuls of them and really eat them and shove them in – and make a face like I liked it!  (Laughs)

And have there been any memorable reactions from audiences that have watched the film for you?
JW: Yeah, older women coming up to me and they're like, 'I loved it – it's beautiful.'  Anyone who gets the real emotional part of it...it's just surprising sometimes. 
Stay tuned to Starpulse as we continue 'Bellflower Week' with our final interview with Writer/Director/Actor Evan Glodell.  
________________________________________________________________________________________________________________________________________ 
"BELLFLOWER" OPENS AUGUST 9 FROM OSCILLOSCOPE LABORATORIES.