'Belle': Portrait Of A Good Film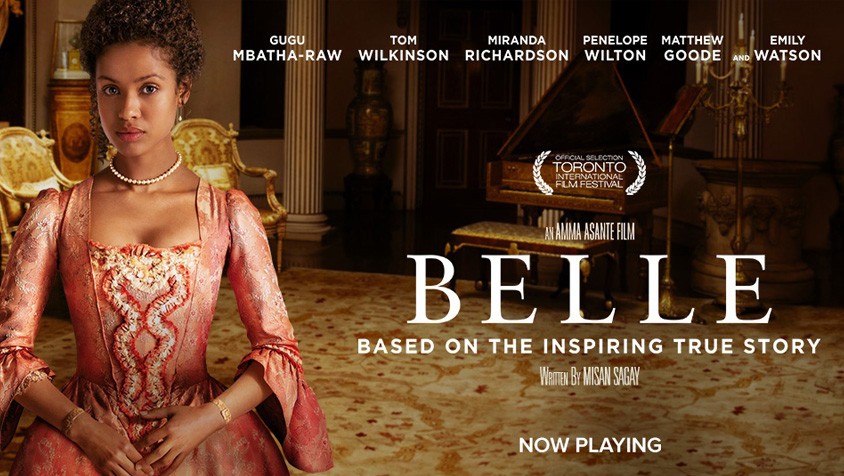 If you love Jane Austen, 19th century novels, 'Downtown Abbey' or anything BBC, 'Belle' is for you. 'Belle' surrounds an actual 18th century bi-racial heiress who dealt with issues of class, courtship and race. Directed by British director Amma Asante ('Grange Hill'), written by Misan Sagay ('Their Eyes Were Watching God') and starring Oxford-born Gugu Mbatha-Raw ('Undercovers'), 'Belle' is an incredibly well-researched, witty, period appropriate British film.

Because I wrote my dissertation on Dido Elizabeth Belle, of course, I had to review this film. Between her childhood and adulthood, a lot of her past is unknown. She fascinated me as a historical figure because she was the niece of Lord Mansfield (credited with the decision that affected slavery in England). Yet, she was also a penniless bastard of an African\South American slave\servant. However, her father, rather than abandoning her\leaving her with the mother, brought her home to his Aunt and Uncle to raise. She led an incredibly complicated life that upset class and racial boundaries as both servant and lady. Sagay and Asante do an incredibly accurate what-if job recreating her possible experiences as a post-adolescent attempting to decide between earning her livelihood or entering the marriage market.

Gugu Mbatha-Raw pulls on her entire Royal Academy Dramatic Art training throughout her performance. Although 31, she believably portrays the difficulties of an 18-year-old adolescent first discovering love while attempting to decide her future (marriage or upper-class service) and realizing her race marks her as different. There's an amazing scene where she claws at her skin to "wash the Ethiop white." The film also smartly acknowledges that the issues Belle experienced weren't necessarily racial but class focused. 'Jane Eyre,' 'Mansfield Park' (which Dido possibly influenced) and the 17th century Grimm version of Cinderella all exemplify what happened to penniless relatives of gentry - they're raised by the wealthier family but typically become that family's upper-level servants in adulthood. However, unlike Jane in 'Jane Eyre,' Belle's family never felt coerced into caring for her and unlike Cinderella, she never served as a direct servant.

Outside the historical issues of race and class, the Austen-ite in me squealed as Dido found herself pulled between two men. Mbatha-Raw had incredible chemistry with both James Norton, who played the assumedly fictional Oliver Ashford - a gentleman who pursued Dido despite her color, and Sam Reid as John Davinier, a middle-class lawyer in training. Like her life, Dido must choose between the upper-class man who adores her and the down on his luck Vicar's son.

I can't say enough about this film. It's what Anne Hathaway's 'Becoming Jane' (2007) and Keri Russell's 'Austenland' (2013) should have been. Instead of sticking to historical accuracy in 'Becoming Jane' or faithful period recreation in 'Austenland,' both films devolved into saccharine sweet sentimentality without any bite. However, this film keeps the dialogue smartly rolling. Miranda Richardson is artfully cunning as the devious, fortune-hunting Lady Ashford. Emily Watson shines as Dido's loving Aunt. Tom Felton has clearly carved out a niche as the blonde elitist racist jerk, James Ashford. And, Matthew Goode was absolutely beautiful as Dido's father.

Asante did an excellent job showing the familial relationships, especially between Dido and her female cousin. Both were flip sides of the same coin. Both shared the same name (Elizabeth), both were abandoned by their fathers to Lord Mansfield's care and both shared the same age range. However, Dido was Black while Elizabeth was white and Dido's parents weren't married while Elizabeth's were. The film also portrayed the closeness between Dido and her Uncle. Yes, Dido did write postscripts on Mansfield's letters and, yes, he took care to always give her presents outside what he granted others in his household. Both Sarah Gaddon (Lady Elizabeth) and Tom Wilkinson (Lord Mansfield) showed excellent familial chemistry with Mbatha-Raw.

As a historian and lover of all things British, I heartily encourage anglophiles everywhere to watch the film. Did they take some historical liberties? Yes, of course, but mostly surrounding timelines and positions. Dido's love interest John Davinier wasn't a lawyer but a doorman. Although Dido's father left her with his Aunt and Uncle before returning to sea to finish his tour; he didn't die abroad, he returned to England, married and had another daughter named Elizabeth. Plus, he died while Dido was in her 20s not her teens. While, yes, he left a daughter named Elizabeth a sum of money, he never specified which one. Dido actually held the household position she rejected in the film and didn't marry until her 30s. Although the film doesn't explain her first name, exoticism surrounding internationals was the rage. And, they probably named her that after the Carthage Queen.

Although the film allowed Dido to rebel against her parental figures and walk about unattended with potential suitors, people didn't question class like we do today. She would've known that her race, lack of funds and bastard status prevented her from joining the table with company. 'Jane Eyre,' 'Emma,' 'Sense and Sensibility' and 'Mansfield Park' all show this. But, they captured Dido's personality, well. Her mother was beautiful; one guest called Dido "pert;" and she frequently included witty postscripts on her uncle's letters. If you're wondering about the difference between Dido's dress in reality and in the portrait, 18th century portraiture loved including costume dress, especially for internationals to emphasize their exoticism.

I loved the great little historical asides that accurately portrayed that 18th century London included a lot of free upper class servants. And, yes, the beloved ones were well compensated. And, I loved a servant walking through basic hair care with Dido. But, I'm a little sad they greatly imply Dido influenced Mansfield's major courtroom decisions concerning slavery, as he was very proud and didn't believe that.

Cinematically, the film was lush with amazing production values, scenery and set design with beautiful costumes featuring heaving bosoms galore. At its heart, 'Belle' is a period chick flick whose heroine happens to be Black.

Honestly, the film was hilarious in the way most period films incorporating British putdowns usually are. Asante did an excellent job incorporating humor through every single pause and raised eyebrow while Sagay did an excellent job in researching the period. And, again, thumbs up to Mbatha-Raw for her believable portrayal of a young woman finding herself while navigating multiple layers of class, love and life.
'Belle' has limited releases across the country. To learn when 'Belle' hits your area, check here.