Belkin @TV [REVIEW]: Not Perfect, But Good Enough for TV People Who Want To Watch Their DVR Away from Home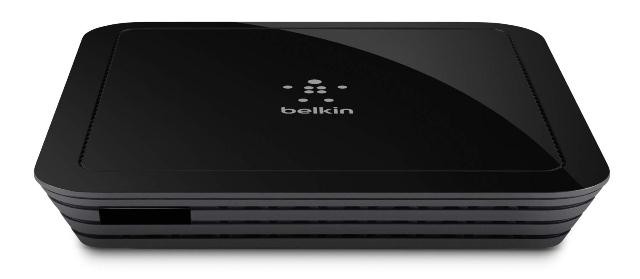 With Netflix, Hulu Plus, Amazon Instant and so many other streaming options out there to feed your TV habit, it's somewhat surprising that products like Slingbox and the @TV plus from Belkin still exist.
Both devices allow you to control a DVR, satellite receiver, cable box or DVD player from the web or your smartphone/tablet. Why do you need that when there are all those instant streaming options? Live TV. Plus there's plenty of shows not available on those streaming services as well.
I've been a Slingbox owner for more than three years; until recently they – shockingly in today's modern tech world – hadn't released a new hardware design in that time. So this summer and fall, I took a look at their new competitor, the @TV plus from Belkin.
Setting up the @TV plus is relatively easy, but you should still set aside a good hour or so to get it right. First, you'll need to plug it into your router (if you plan on using Ethernet) or into your computer/laptop if you plan on using WiFi. It's a bit of a pain, especially if your computer is in another room, but it wasn't a huge issue for me since I planned to use it on my bedroom TiVo where my computer also happens to live.
The bigger bummer might be a lack of HDMI inputs—you can only plug in composite or component sources into the @TV plus. Then again, if you're watching on a smartphone or tablet, you may not even notice the difference in quality depending on your Internet connection.
The most important wire you have to plug in is the IR blaster. The two blasters are placed in front of the device that you wish to control. This allows the @TV plus to mimic commands that your remote control would normally make.
Unfortunately, their own screen remote control is one of the biggest disappointments. I used it with my TiVo Premiere, and while I have an exact TiVo remote available when I use the Slingbox app, I got a poor man's copy with the @TV plus app. The commands worked, but it took me a bit of time to get used to their virtual remote control. There were also noticeable pauses in between virtual buttons being pressed and the video feed matching what I had just done—but that's expected with any device of this nature. It all comes down to how good your Internet connection is. (And mine is fairly terrible in my apartment.)
To watch your @TV plus from afar on a laptop, you download the free software. To watch it on your iPad or an Android tablet, download the free app. For smartphones, however, you need to cough up $12.99. Annoying? Yes. But way more affordable than Slingbox's competing apps—they're currently $14.99 each for smartphone and tablet.
(Side note: as a long time Slingbox user, I have to admit I have paid a whopping $90 for their apps. They used to be $30, and I bought over the years, the one for the iPhone/iPod Touch, the one for the iPad and the one for Android.)
The @TV supposedly works on both Wi-Fi and 3G/4G connections. I can attest that over WiFi, the streaming is fairly good, as I tested it in multiple locations. However, I never got the 3G connection to work. After numerous attempts with Belkin's support staff – who was quite friendly – we diagnosed the issue with my cable modem not having the proper Internet ports open. I've encountered this problem before and while it's not Belkin's issue as much as it is Cablevision's, it's still quite annoying.
Then again, unless you have unlimited data on your devices, you really, really shouldn't use a device like the @TV plus without Wi-Fi. It would eat into your monthly allowance quite easily and quite quickly.
The @TV plus is clearly a generation one product. If you're an existing Slingbox owner, or have something similar, there's no need to switch. But if you've been looking for a device like this, and don't think the instant streamers offer enough options for your TV watching on the go, the @TV plus from Belkin is a good choice as it's more affordable than its competitors.
The @TV from Belkin came out this past summer. It is available for $179.99 from most retailers. To learn more, please visit the official web site here.
* Disclosure: An @TV plus was provided by Belkin for the purposes of this review. *