'Being Human' Sets Season 3 Premiere Date; Kristen Hager Becomes Series Regular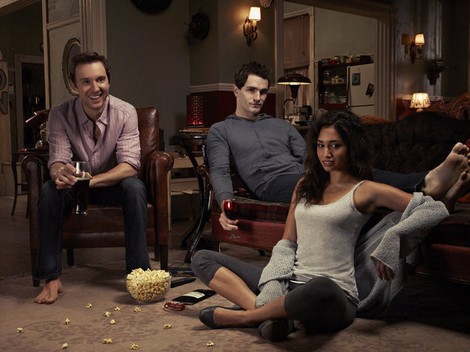 SyFy announced this week that season three of Being Human will premiere Monday, January 19 at 9 pm. In addition, Kristen Hager, who plays the werewolf Nora, will join the cast as a series regular.
Spoilers ahead: Season 2 ended with vampire Aidan (Sam Witwer) being buried alive as punishment from Mother, the vampire leader. Ghost Sally (Meaghan Rath) was lost in limbo. And werewolf Josh (Sam Huntingon) was plotting to kill his maker, Ray, when he got into a fight as Nora watched on. (It's been awhile since I've watched it, but I seem to recall two shots ringing out.)
In addition to Hager being upped to series regular, Mark Pellegrino will continue to guest star as Aidan's vampire mentor Bishop. (Presumably in flashbacks since his character died at the end of season one.) Xander Berkeley (Nikita, 24) will also guest as Liam, the "father of purebred werewolf twins who is intent on locating his missing children." Other upcoming guest-stars include Amy Aquino (Harry's Law, ER) and Bobby Campo (Final Destination).