Being A Mom Makes Beyonce Feel More Beautiful Than She's Ever Felt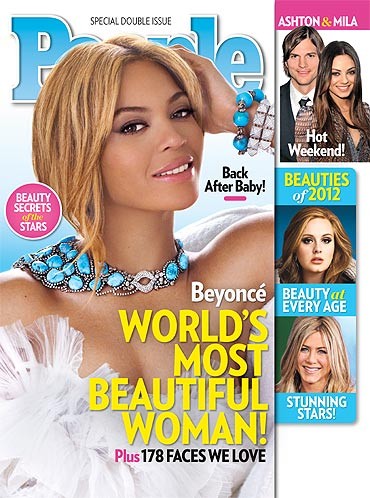 Beyonce is named PEOPLE's World's Most Beautiful Woman 2012 in the magazine's special double issue, now celebrating its 23rd year. This marks the ninth time the pop superstar singer and actress has made the coveted list. She is joined by fellow "Most Beautiful Woman" Hall of Famers Julia Roberts (13 times), Nicole Kidman (10 times), and Mad Men's breakout star, Jessica Paré, a newcomer to the list. The 178 fabulous faces featured in the issue also include such gorgeous guys as David Beckham, Blake Shelton, and Ashton Kutcher, plus PEOPLE's Sexiest Man Alive, Bradley Cooper.

Beyonce is an entertainment force of nature, a 16-time Grammy winner, a beauty and style icon – and is now proudest of the title that happens to be her most recent – mommy to little Blue Ivy Carter.

"I feel more beautiful than I've ever felt because I've given birth," she tells PEOPLE in an exclusive interview. "I have never felt so connected, never felt like I had such a purpose on this earth."

The "Crazy in Love" singer, 30, and her husband of four years, Jay-Z, 42, have gone gaga for Blue, born Jan. 7 in New York City. "I just stare at her all day," gushes Beyonce. "She is my favorite thing in the world, and my No. 1 job is to protect her."

At 4 months old, Blue gets private concerts from her mom. "I make up songs – they become the 'change a diaper' song, the 'bathing' song, the 'go to sleep' song, the 'I want to hear you coo' song," Beyonce explains. "She loves it. She tries to come in and give her little ad libs."

More of Beyonces exclusive interview with PEOPLE, in which she shares her beauty secrets, reveals how she lost the baby weight and sets the record straight on all the rumors, is on newsstands Friday, April 27.

Kicking off PEOPLE's 6th annual "Not a Drop of Makeup" section – eight fresh faces photographed in nothing but moisturizer and lip balm – is Bridesmaids actress Rose Byrne, 32. "The first person I remember thinking was beautiful was my mom," she tells PEOPLE. "She never really wore much makeup, some Clinique powder and a bit of red lipstick. That concept of being natural has stuck with me and my sisters." Fourteen year-old Paris Jackson, daughter of the King of Pop, admits to PEOPLE that her beauty icons are "Halle Berry and Beyonce. Beyonce is like an angel. She's one of the most beautiful women I've even seen." And Jessica Paré, 29, tells PEOPLE, "It's amazing what your diet can do for your skin. I eat as many raw foods as I can… I'm a vegetarian and I don't eat wheat, so I'm the world's most annoying dinner guest, but it really helps my skin."

In "Half Their Age," PEOPLE honors seven stunning stars who share their secrets for looking years younger. At 47, Kristin Davis, admits, "Ever since I've adopted my daughter [8-month-old Emma Rose] I really have done no exercise except hold her – so my deltoids are doing well, but my lower half not so much." Kelly Preston, 49, reveals, "I don't wear a base, I don't wear foundation. I think that's huge because when you wear a lot of makeup it tends to dry out your skin and age you." She adds, "I also use this cream I'm trying to get on the market. It's amazing. I'm working on it with Kirstie Alley…It's made with herbs that are not from the U.S. They can't grow them here because the earth is not rich enough." The Talk cohost Aisha Tyler, 41, shares her philosophy for looking youthful: "I love to drink wine; I love to eat good food. Everything in moderation. But I'm not one of those people drinking wheatgrass shots and eating gravel." She adds, "There's nothing shameful about chocolate."

In "Real Beauty at Every Age," meet the winners of PEOPLE's search for the most beautiful real women in their 20s, 30s, 40s, and 50s. More than 15,000 women submitted their photos to PEOPLE.com, and readers voted on the final four. Plus, learn the results of PEOPLE's national survey on everything from ideal cup size to the sexiest age.

And six comedians showcase the exquisite art of making a surprise appearance in a photo in "The Beauty of the Photobomb" featuring 30 Rock's Tina Fey, 41, and Alec Baldwin, 54; Big Bang Theory's Kaley Cuoco, 26, and Jim Parsons, 39; and Glee's Matthew Morrison, 33, and GCB's Kristin Chenoweth, 43.

For more information and exclusive video from PEOPLE's "Most Beautiful" photo shoots, visit www.people.com/mostbeautiful.


**Also In This Week's 'People'**
Ashton & Mila's Hot Weekend: Kutcher Always "Talked About How Beautiful She Was"
Ryan Reynolds & Blake Lively Playing House: "They're Really Happy"